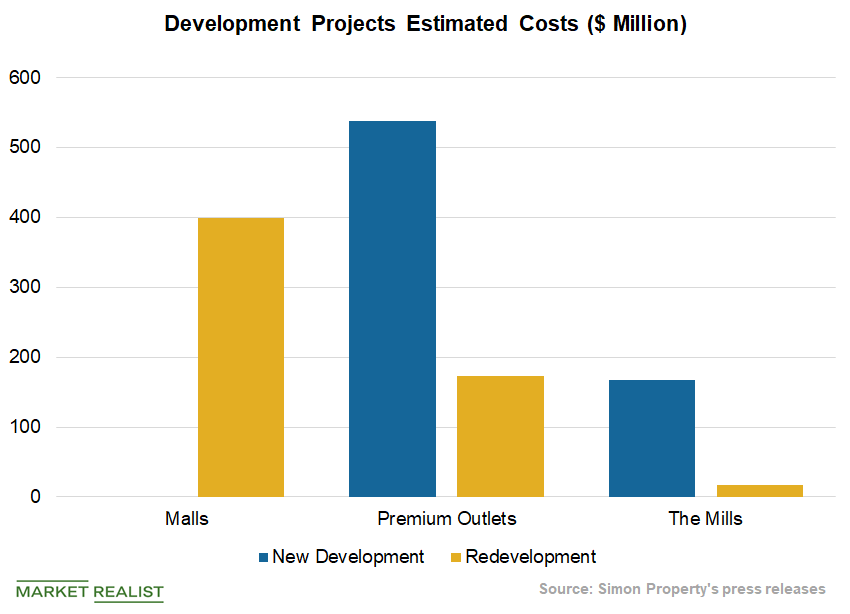 Will Expansion Plans Help Simon Property Drive Mall Traffic?
Massive investment plan
Simon Property Group (SPG) has been putting a lot of focus on the redevelopment and expansion of its properties. Over the last five years, the company has spent ~$5 billion on development projects.
In May, the largest US-based mall owner and operator announced a massive $4 billion investment plan to transform its malls aimed at creating value and driving footfall at its properties. Under this plan, the company has been targeting the addition of luxury stores, hotels, and restaurants, as it believes these areas will not be affected by the rise of e-commerce.
At the end of the first quarter, Simon Property had expansion and redevelopment projects—including the addition of new anchors—in progress at 28 properties across the United States, Asia, and Canada.
Article continues below advertisement
Recent expansion activities
Simon Property is continuously working on new project developments, interior expansion, the addition of new restaurants, and the development of premium entertainment facilities to attract more traffic to its stores. Moreover, the company is quick in replacing struggling brands with trending ones, as it did with Sears Holdings (SHLD).
In May, Simon Property recaptured five former Sears stores and started its transformational redevelopment work. Enhancements to these properties have included the development of restaurants and dining pavilions, entertainment, new retail brands, and fitness and residential spaces.
The company has also opted for a micro-retail model that offers store units ranging from 20 to 200 square feet of space. With such initiatives, it can leverage the improving spending habits of wealthier customers amid higher economic growth.
The company's innovative ideas for expansion, redevelopment, and renovations have made it the highest sales earner per square foot among its competitors, which include GGP (GGP) and the Macerich Company (MAC).
Simon Property and its above-mentioned peers make up almost ~31% of the Pacer Benchmark Retail Real Estate SCTR ETF (RTL). The ETF has returned 1.4% in the last month.