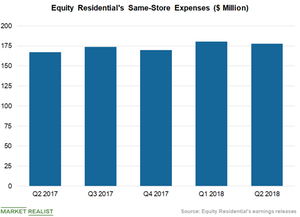 Where Equity Residential's Expenses Are Heading
Same-store operating expenses
Equity Residential's (EQR) second-quarter operating expenses increased at a higher rate than the growth rate of same-store revenues. Operating expenses in the quarter registered a YoY (year-over-year) increase of 3.2% to $177.7 million, mainly due to a rise in real estate taxes, utilities, repairs and maintenance, insurance, and leasing and advertising expenses.
Real estate taxes, which formed ~43% of same-store operating expenses, grew 4.2% YoY mainly due to skyrocketing home values. An improving domestic economy and a robust jobs market are driving demand for properties, thus pushing their values higher.
Utilities and repairs and maintenance expenses, which together constitute ~26% of operating expenses, increased 5.1% and 5.8%, respectively.
Going forward, Equity Residential anticipates same-store expenses in 2018 to grow 3.5%–4% YoY.
Article continues below advertisement
Rising interest expenses
Rising interest rates remain a drag on Equity Residential's bottom-line results. During the second quarter, it witnessed a 3.2% rise in interest expenses, which negatively impacted its FFO (funds from operations) per share by a penny.
Improving GDP, a strong jobs market, and impressive consumer sentiment are pushing inflation rates higher. To keep inflation under control, the Federal Reserve has been raising interest rates. Since 2015, it has increased rates seven times. So far this year, it has raised the interest rate twice by 25 basis points each and is planning another two rate hikes in the second half of 2018.
Currently, Equity Residential has ~$9 billion of debt outstanding, which exposes it to interest rate risks. To stay on the growth trajectory, the company has been acquiring and developing new projects, for which it has to depend on external financing. For 2018, the company is projecting to make debt offerings of $800 million–$1 billion, which will increase its interest expense burden.
The company projects an increase in interest expenses to negatively impact its 2018 FFO per share by a penny.
Higher interest rates affect REITs such as Equity Residential, Simon Property Group (SPG), GGP (GGP), and Kimco Realty (KIM) in other ways, too. Investors could be more attracted to risk-free, higher-yield bond alternatives than REITs. That could pull down their stock prices.
Equity Residential and its above peers make up ~8.5% of the Vanguard REIT ETF (VNQ).