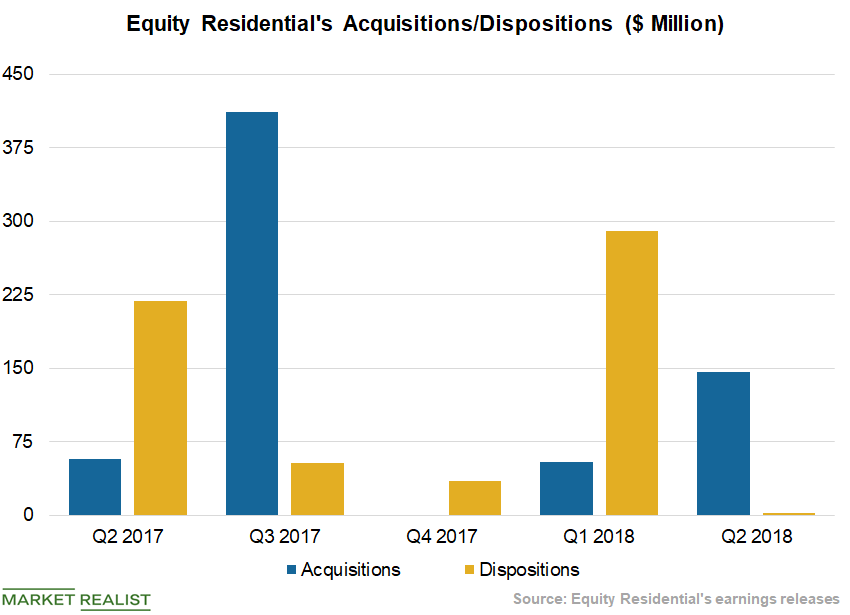 Equity Residential: Shareholder Wealth by Capital Reallocation
Capital reallocation
Equity Residential (EQR) always looks for opportunities to enhance shareholder wealth through its reinvestment strategies. It not only acquires or develops a property to earn rental income throughout the lifetime of the asset but also looks for options to take advantage of value appreciation in its properties and reinvest unleashed capital in more lucrative opportunities.
During the first half of 2018, Equity Residential sold four apartment properties and a land parcel for $292.7 million. It also bought two apartment properties for $199.7 million. The transaction generated an unlevered IRR (internal rate of return) of 8.1%. Last year, it purchased four apartment properties for $468 million and sold five assets for ~$355 million, thus creating an IRR of 12.4%.
Article continues below advertisement
Unstable dividend payments
Investors have a general perception that REITs receive higher dividends every quarter. However, Equity Residential (EQR) has a typical dividend policy based on its financial position rather than paying a fixed percentage of FFO (funds from operations).
Therefore, the company has not been consistent with its dividend payments. In 2013, 2014, 2015, 2016, and 2017, it paid dividends of $1.85, $2, $2.21, $5.02, and $2.02, respectively. It raised its quarterly dividend in the first quarter of 2018 to $0.54 per share from $0.50.
Equity Residential has a track record of enhancing shareholder wealth by announcing special cash dividends. Last year, it was $3 per share. In 2016, it allocated $8 per share as special cash dividends.
Despite its unstable dividend payments, Equity Residential's dividend yield is almost in line with most of its competitors. Its current dividend yield is 3.2%, while its competitors Camden Property Trust (CPT), Essex Property Trust (ESS), and Mid-America Apartment Communities (MAA) have dividend yields of 3.3%, 3.1%, and 3.7%, respectively.
Equity Residential and these competitors make up ~19% of the iShares Residential Real Estate ETF (REZ), which has a broad portfolio and invests in companies in US residential, healthcare, and self-storage REITs.