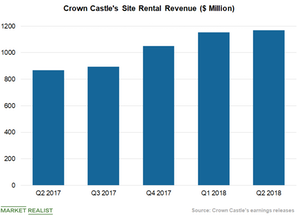 5G Wireless Networks to Fuel Crown Castle's Future Growth
By Anirudha Bhagat

Jul. 25 2018, Updated 9:02 a.m. ET
Third-quarter and fiscal 2018 expectations
Crown Castle (CCI) expects its site rental revenue to rise 31%–32% YoY (year-over-year) to $1.172 billion–$1.182 billion in the third quarter, and 27%–28% YoY to $4.673 billion–$4.703 billion in fiscal 2018. The company expects accelerated 5G (fifth-generation) deployment by domestic wireless network carriers and the mobile industry's continuous evolution to drive demand for communication sites.
Article continues below advertisement
Big opportunity in the form of 5G
Many wireless carriers, such as Verizon Communications (VZ) and AT&T (T), are now opting for 5G for higher speeds and network reliability to take advantage of emerging technologies such as edge computing solutions, the IoT (Internet of Things), augmented and virtual reality, autonomous vehicles, and other applications.
During its first-quarter earnings conference call, Crown Castle's biggest competitor, American Tower (AMT), revealed that domestic wireless carriers' infrastructure development capex is expected to reach ~$30 billion this year.
5G networks' success depends heavily on small-cell technology, which is used to augment towers' capacity. Small-cell technology operates through fiber networks and can be fixed to street lights, utility poles, and other locations. Small cells are installed between 30 feet and 1.25 miles from each other to boost networks' speed, a necessity for 5G technology.
According to Wintergreen Research, the small-cell market is likely to grow from $12.5 billion to $58.7 billion between 2017 and 2024, growing at a compound annual rate of 24.7%. Top small-cell technology vendors include Cisco Systems (CSCO), Ericsson, and Huawei.
To capitalize on 5G opportunities, big wireless carriers and tower operators are deploying small-cell technology. Crown Castle has more than 40,000 towers, 50,000 small cells, and over 60,000 route miles of high-capacity fiber assets under its portfolio. Moreover, most of its small-cell and fiber assets are located in the top 25 US markets, and the company has orders to install 30,000 small-cell sites by next year.
With such a massive asset portfolio, Crown Castle is well positioned to take advantage of long-term trends and the growing dependence on small-cell networks. Crown Castle makes up 6% of the Invesco Active US Real Estate ETF (PSR).