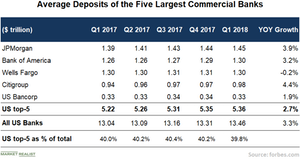 US Banks Might Boost Payouts after Clearing the Stress Test
By Peter Barnes

Updated
Big banks cleared stress test
Big US banks (VFH) have cleared the Fed's latest stress test. The test measures banks' ability to withstand an economic crisis. The Fed found that all 35 banks that were examined could survive a severe economic downturn. However, the test showed that Goldman Sachs (GS) trailed the rest of the bank majors regarding a key leverage measure—the SLR (supplementary leverage ratio). The Fed's results showed Goldman Sachs's SLR at 3.1%, while Morgan Stanley is at 3.3%. Goldman Sachs disputed the Fed's numbers.
Banks might increase payouts
After clearing the first stage of the annual regulatory stress test, the 35 largest US banks might go for higher dividends and share buybacks. According to analysts' estimates compiled by Bloomberg, the 25 largest banks might announce payouts worth ~$30 billion more than last year—a 25% increase. According to the estimates, JPMorgan Chase (JPM), Bank of America (BAC), and Citigroup (C) will likely distribute more than 100% of their profits in the next four quarters. Goldman Sachs (GS) and Morgan Stanley (MS) might distribute less than their peers.
Bank of America became the second-largest bank by deposits
Bank of America became the second-largest US bank by total deposits. At the end of the first quarter, Bank of America garnered more than $1.3 trillion deposits. Bank of American surged past Wells Fargo (WFC). JPMorgan Chase is the leader with a deposit base of $1.45 trillion.