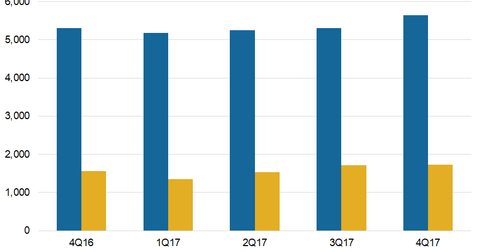 Berkshire's BNSF Can Gain from Trump's Manufacturing Push
By Robert Karr

Updated
Manufacturing push
As is evident from its policy decisions, which include rate cuts, trade wars, and the easing of lending via the amendment of the Dodd-Frank Act, the Trump administration is pushing for domestic manufacturing. This could aid in the growth of rail and road traffic over the next few years. Railroads (XLI) could see improved traction and consistent growth amid improving coal and industrial output in 2018.
Article continues below advertisement
Berkshire Hathaway's (BRK.B) BNSF consistently grew its business in 2017 on higher operating profits aided by investments made to improve efficiency. BNSF saw its revenue rise 6.2% to $5.6 billion in 4Q17. For the full year, it managed growth of 7.9% in revenue to $21.4 billion aided by a 5.3% rise in volumes and a rise of 2.4% in revenue per car per unit.
BNSF's profitability has been a highlight in recent quarters. Buffett invested heavily in 2016 and 2017 to improve the speed and operating efficiency of BNSF's network in order to command better operating margins. BNSF managed an 11% rise in earnings before taxes to $1.7 billion in 4Q17. This trend is expected to continue, partially offset by rising fuel prices, in 1Q18.
Other railroad majors such as Union Pacific (UNP), Kansas City Southern (KSU), and Canadian National (CNI) are already operating with efficient networks and better technology compared to BNSF. However, the gap is expected to reduce in the upcoming quarters.
Coal versus natural gas
A recent hike in natural gas prices, impacted by oil prices (USO), has resulted in higher demand for and shipments of coal. BNSF's coal shipment revenue rose 13.7% to $3.8 billion in 2017. The trend is expected to continue in 2018 owing to higher natural gas prices.
Major drivers in 1Q18 will be consumer and industrial products, which could see a rise in shipments in the range of 7%–9%.