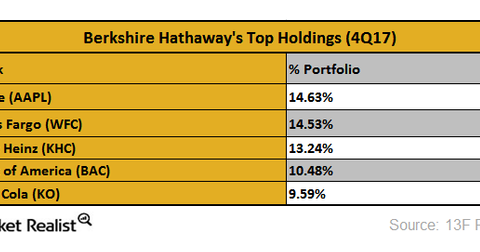 Why Warren Buffett Is Bullish on Apple
By Sarah Sands

Updated
Warren Buffett on Apple
Legendary value investor Warren Buffett discussed recent stock picks in an interview with CNBC on Monday, February 26, 2018.
When asked about what he would like to buy other than Berkshire Hathaway (BRK-B) stock, he said that he has bought more Apple (AAPL) stock in the last year than anything else. Buffett said, "If you look at our holdings, you would assume that we like them in the order in which they rank by dollar value of holdings, but if you look at them in terms of recent purchases over the last year we've bought more Apple than anything else."
Article continues below advertisement
Buffett has an optimistic view on Apple's business process and future outlook. According to him, it is an attractive investment. He further added, "Apple has an extraordinary consumer franchise. I see how strong that ecosystem is, to an extraordinary degree.…You are very, very, very locked in, at least psychologically and mentally, to the product you are using. [IPhone] is a very sticky product."
Largest holdings
In 4Q17, Apple represented 14.6% of Berkshire Hathaway's portfolio. Berkshire Hathaway was the fourth largest investor in Apple with 165.3 million shares as of 4Q17, according to the institutional ownership report. Wells Fargo (WFC), Kraft Heinz (KHC), and Bank of America (BAC) stocks were other top holdings of BRK-B in 4Q17.
Apple's performance
Apple stock rose 48.8% in 2017. The Technology Select Sector SPDR ETF (XLK), which tracks the performance of the technology sector, and the broader market S&P 500 Index (SPX-INDEX) rose 34.7% and 19.7%, respectively, in 2017.
In the next part of this series, we'll analyze Warren Buffett's view on the impact of tax reform on Berkshire Hathaway's business.