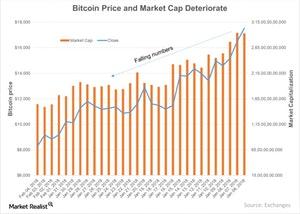 The Rout of Cryptocurrencies and the Repercussions
Cryptocurrency rout
Cryptocurrencies are still on their downtrend and have slumped to start the week. Bitcoin was down 10.8% at 5:00 AM EST on February 5, 2018. During the same timeframe, Ethereum, Ripple, Bitcoin Cash, and Cardano fell 11.6%, 12.1%, 13.5%, and 18.0%, respectively.
Bitcoin broke the $8,000 mark and fell to $7,972. The RSI (relative strength index) level for Bitcoin is also trading below 30, indicating that a revision in price could be possible. However, looking at the continuous price downtrend, a reversion may or may not be around the corner.
The market capitalization of bitcoin has dropped $134.0 billion. The overall market cap for cryptocurrencies has declined to $377.0 billion. Bitcoin's market cap was close to $300.0 billion at the beginning of January 2018. Ethereum was trading at $812.10, and its market cap was $79.0 billion.
Article continues below advertisement
No cryptocurrency with credit cards
Among the top banks on Wall Street, JPMorgan Chase (JPM) and Bank of America (BAC) are no longer permitting the use of credit cards for the purchase of cryptocurrencies (ARKW). The move is likely a precaution against possible money laundering and identity thieves using credit cards to purchase cryptocurrency. These banks also considered the risk that customers could overestimate their capacity to purchase volatile cryptocurrencies.
Citigroup (C) opted for a similar move with respect to credit card purchases of cryptos. On Monday, February 5, Lloyds Banking Group (LYG), which has 9 million customers, banned the use of its credit cards to purchase cryptocurrencies. Lloyds Banking Group encompasses Bank of Scotland and MBNA.