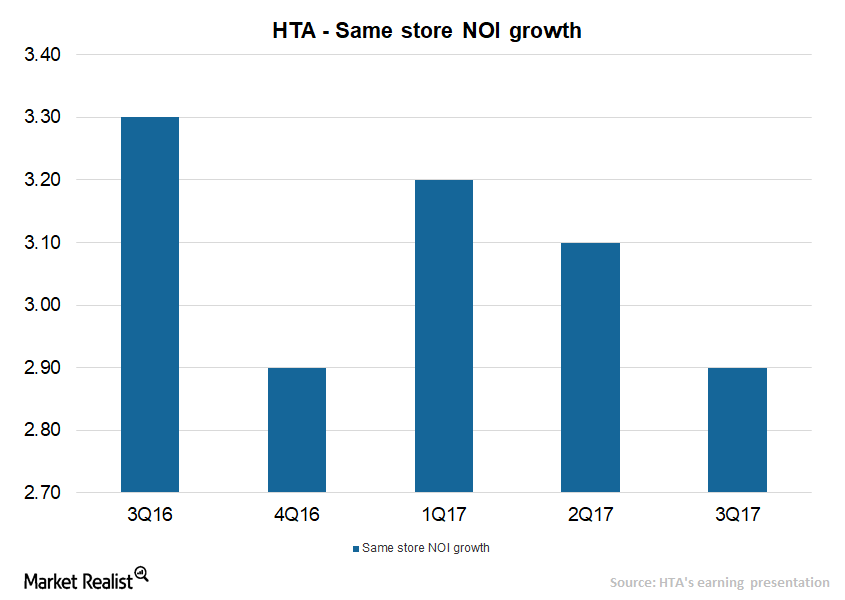 Healthcare Trust of America's Strategic Rationale
By Raina Brown

Feb. 27 2018, Updated 9:01 a.m. ET
Pure-play MOB platform
Healthcare Trust of America (HTA) has a combined enterprise value of ~$9.0 billion, which makes it the largest public MOB platform. Its acquisition strategies have made it a dominant public pure-play MOB platform.
It has become a national leader in outpatient healthcare real estate, which is still an unconsolidated sector, and is undergoing significant changes in macroeconomic growth trends.
Article continues below advertisement
Concentrated markets
HTA acquires and invests in properties in 20–25 key markets with strong growth characteristics. This leads to significant portfolio overlap and creates scale in key gateway markets.
This increase in market density allows for improved operating synergies and growth opportunities utilizing the combined operating platform. HTA has 17 markets, and each of them has over 500,000 square feet of GLA (gross leasable area).
Focused portfolio
HTA's portfolio is focused on campus and in community core locations. Plus, 74.0% is leased to major hospital systems while ~76.0% is located directly on or adjacent to health system campuses. Of these assets, 93.0% are leased and have weighted average lease term of 9.6 years.
Same-store net operating income growth
HTA has 3.4% combined pro forma same-store NOI growth, and its development assets are currently 86.0% pre-leased. The development platform allows for a full-service relationship with new and existing healthcare providers.
Average same-store growth for HTA and its peers since 2012 are as follows:
HTA comprises 0.69% of the Vanguard Real Estate Index ETF (VNQ).