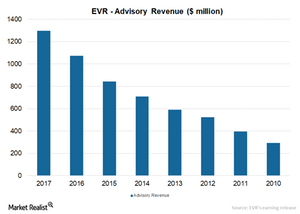 Evercore's Strongest Division: Investment Banking
By Raina Brown

Feb. 14 2018, Published 11:45 a.m. ET
Strong advisory revenues
Evercore's (EVR) investment banking segment reported net revenues of $518.8 million in 4Q17 compared to $427.4 million in 3Q16. In 2017, the company recorded revenues of $1.6 billion, which was 20% higher than 2016.
Advisory revenues of $384 million formed 84% of its total revenues in 4Q17. Compared to 2016, advisory revenues were 21% higher in 2017. Advisory client transactions were 574, an increase of 1%. Advisory fees in excess of $1 million were 4% higher.
The company advised clients on various strategic transactions globally, including the following:
Article continues below advertisement
advising Qualcomm on Broadcom's $129 billion unsolicited takeover proposal
advising Aetna on its sale to CVS Health in the amount of $77 billion
advising Energy Future Holdings on the sale of Oncor to Sempra Energy in the amount of $19 billion
advising Global Logistic Properties on its $16 billion sale to Nesta Investment Holdings
Performance of other segments
EVR's revenue from commissions and fees stood at $56.6 million in 4Q17 and fell 10% in 4Q17. The fall was due to institutional clients who are moving to passive investing due to low levels of market volatility.
Underwriting fees were $15.7 million in 4Q17, a 33% rise from 3Q17. The increase was due to underwriting transactions. The company undertook a total of 18 transactions.
Expenses
Compensation expense of $266.3 million was a 2% rise compared to 4Q16. The rise was due to an increased headcount requirement, which included senior hires. Its compensation ratio was 51.3% compared to 61.1% in 4Q16. The fall in ratio was basically due to rising revenues.
Non-compensation expense was $74.2 million, a 10% rise compared to 4Q16. The increase was due to increased personnel in most parts of the business.
EVR has a market capitalization of $4 billion. Its peers Morgan Stanley (MS), Citigroup (C), and Bank of America (BAC) have market capitalizations of $94.3 billion, $194.8 billion, and $312 billion, respectively.