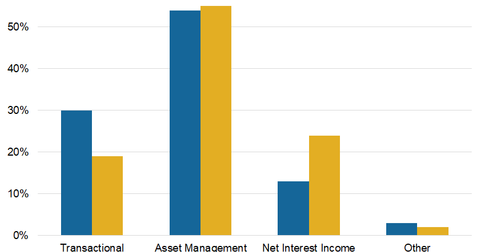 Wealth Management Segment: Morgan Stanley's Backbone
By Raina Brown

Updated
Wealth Management segment
Morgan Stanley's (MS) Wealth Management segment reported pretax income of $1.2 billion in 4Q17 compared to $891 million in 4Q16. Its pretax margin for 4Q17 was 26%, and its net revenue in 4Q17 was $4.4 billion compared to $4 billion in 4Q16.
Article continues below advertisement
Bifurcation of revenue
Morgan Stanley's asset management revenue rose from $2.2 billion in 4Q16 to $2.5 billion in 4Q17. This rise was the result of a higher asset level and positive cash flows.
The company's transactional revenue rose $16 million to $790 million in the quarter. This $16 million rise was the result of gains on employee-deferred compensation plans offset by lower fixed income revenue.
Higher interest rates and growth in bank lending led to a rise in the segment's net interest income. Its net interest income stood at $1.1 billion in 4Q17 compared to $984 million in 4Q16. The segment's liabilities are currently $80 billion compared to $73 billion a year ago. Given the rising interest rate environment and improving conditions, the segment is expected to continue to grow in the coming year.
Among Morgan Stanley's competitors, Bank of America (BAC) and JPMorgan Chase (JPM) have been performing well in terms of wealth management in recent quarters, while Goldman Sachs (GS) has been lagging behind. MS makes up 2.3% of the iShares U.S. Financial Services ETF (IYG).
Compensation expenses
The segment's compensation expenses for the quarter stood at $2.4 billion, a rise of $0.2 billion compared to a year ago, primarily driven by higher revenues. Its noncompensation expenses, on the other hand, fell $39 million to $837 million.
The segment's total client assets were $2.4 trillion, with $1 trillion of client's assets in fee-based accounts. Approximately 16,000 members of the wealth management segment earned an average annualized revenue of $1.1 million in 4Q17.