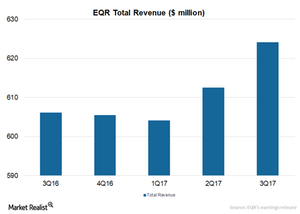 How Tax Plan, Interest Rates, and Other Factors Are Affecting EQR
Tax cut plans
Since REITs are required to pay 90% of their income as dividends, the tax cuts might reduce their advantage in comparison to other corporations. Since EQR is a residential REIT, tax cuts may boost leasing, and rent can be hiked at an increased pace, as there will be more income in the hands of investors. EQR's net margin was at 25% in 1Q17, 33.4% in 2Q17, and 23.2% in 3Q17.
Article continues below advertisement
Increase in interest rate
EQR has $9.0 billion of debt outstanding. The increase in interest rate will increase its expense to a large extent and take a toll on its profit. Its FFO per share was reduced by $0.04 due to an increase in interest costs. Also, other asset classes like bonds might attract investors' attention, as bonds could provide high returns and limit risk.
Performance amid increasing interest rates
Effect of consumer confidence
The consumer confidence indicator touched its highest level since 2004 in October 2017 at 101.1. The indicator fell to 95.9 in December. The rise in consumer confidence helps in assessing the business environment, consumer confidence, as well as the labor and job market. Factors like cyclicity, insolvency, and financial condition affect its rent rate as well as the occupancy rate.
EQR's total revenue fell by 2.4% in 1Q17 and jumped up by 2.9% and 3% in 2Q17 and 3Q17, respectively.