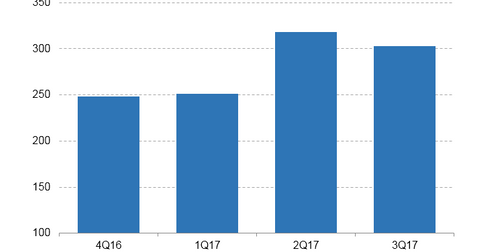 How Twitter's Noto Found Room at SoFi
By Ruchi Gupta

Updated
Noto worked quietly to leave Twitter
Twitter's (TWTR) outgoing COO (chief operating officer), Anthony Noto, quietly worked out his exit from the company. When the Wall Street Journal broke the story that he was considering taking up the job of CEO (chief executive officer) at SoFi, both Twitter and SoFi were tight-lipped at the time.
But only a few days later, Twitter confirmed that Noto was departing, and SoFi confirmed that Noto was joining its team. Who made room for Noto at SoFi, and what might follow after he leaves Twitter?
Article continues below advertisement
Former SoFi CEO was accused of sexual misconduct
SoFi, a budding online lender in the fintech sector that specializes in personal finance, has been troubled in recent months. The company ousted Mike Cagney as its CEO in September and has been looking for a permanent CEO. Cagney was forced to step down as SoFi's CEO because employees accused him of sexual misconduct.
The pushing out of Cagney amid sexual harassment claims was viewed as SoFi trying to create room for a safe pair of hands to lead the company, and so apparently, that's how Noto found room at SoFi.
Noto and Dorsey could be in competition
Given SoFi's ambitions and the ambitions of Square (SQ), the company run by Twitter CEO Jack Dorsey, Noto and Dorsey appear to be on a competition course. SoFi and Square both have ambitions of becoming full-service banks. And Noto, a former Goldman Sachs (GS) banker, has made it clear that this is a course he would like to pursue once he joins SoFi.
Twitter-Square synergies
What does competition between SoFi and Square have to do with Twitter? Dorsey, the CEO of both Twitter and Square, has been talking about potential synergies between the companies, and so it could be inferred that increased competition against Square may be bad for Twitter's prospects.
Square, which supplied $303 million in loans to customers in 3Q17 and has supplied over $1.8 billion in loans overall, already faces competitive pressures from Amazon.com (AMZN) and PayPal (PYPL) in the alternative lending market.