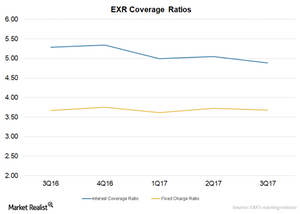 Extra Space and Its Solid Balance Sheet
By Raina Brown

Jan. 29 2018, Updated 7:33 a.m. ET
Solid balance sheet
Extra Space (EXR) has a well-leveraged balance sheet that consists of diversified capital sources, which helps it obtain access to cheap sources of funds in different economies.
EXR closed the ten-year $300 million private placement that it announced in 2Q17 at 3.95%. This private placement funding was carried out with the objective of increasing the average debt term, debt ratio, and size of the unsecured pool.
Because EXR isn't a rated company, one reason to increase the exposure to unsecured debt and reduce reliance on secured debt may be to obtain investment-grade status.
These proceeds are expected to be used to finance acquisitions, loan maturities, and pay revolving balances. EXR made use of its credit facility to fund the acquisitions and loan maturities.
Article continues below advertisement
EXR's key ratios
EXR increased its fixed debt ratio to 80.0% in 3Q17 from 76.1% in 2Q17. The average maturity also increased from 4.4 years in 2Q17 to 4.8 years in 3Q17.
Its interest coverage ratio has decreased from ~5.3x in 3Q16 to ~4.9x in 3Q17. The fixed charge coverage ratio has been more or less the same in the past year and stood at ~3.7x in 3Q17.
Peer group debt-to-equity ratio
Among EXR's peers, Public Storage (PSA) has the lowest amount of debt outstanding, which is less than 1.0% of its total market cap. PSA has a debt-to-equity ratio of ~16.0%.
CubeSmart (CUBE) has a debt-to-equity ratio of ~100.2% while Life Storage (LSI) has a debt-to-equity ratio of ~84.7%. EXR has the highest debt-to-equity ratio of 194.7% and forms ~2.0% of the Real Estate Select Sector SPDR ETF (XLRE).