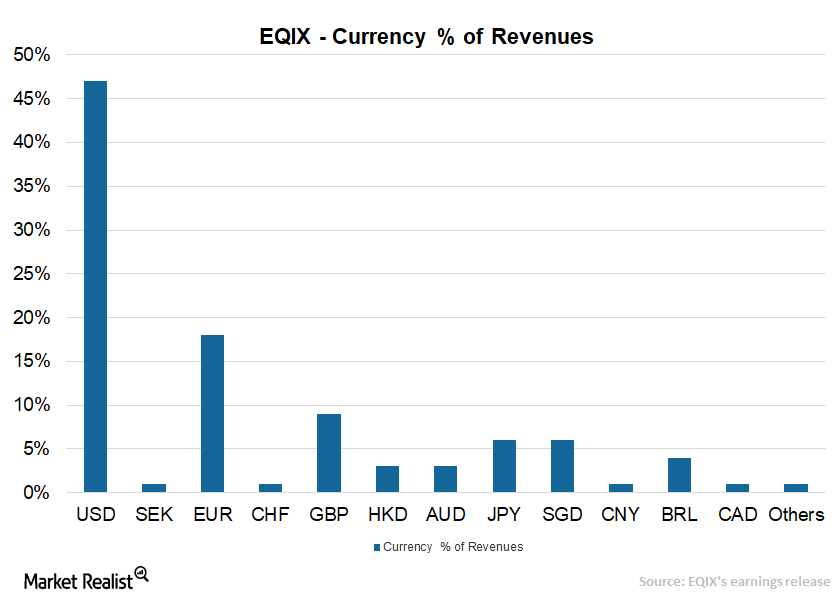 Equinix: A Complete Overview
Unique portfolio
Equinix (EQIX) has 190 data centers in 48 metro area around the world. It operates more than 1,600 networks and serves about 2,800 cloud and IT service providers. EQIX operates ~248,000 cross-connects.
Article continues below advertisement
Growth profile
Equinix has a record of sequential revenue growth for 59 quarters and is expected to reach growth of 11.0% in 2017 on a normalized basis. EQIX reached ~5.0% same-store revenue growth and 4.0% gross profit growth.
The company generated an ~30.0% yield on gross property, plant, and equipment (or PP&E) on stabilized assets. It generated a ten-year shareholder return of ~18%.
Assets performance
Equinix owns 62 of 190 IBX data centers and 9.0 million of its 19.4 million gross square feet. Its owned assets generated 43.0% of its recurring revenues, and the average remaining lease term is greater than 19 years.
Article continues below advertisement
Strong balance sheet
EQIX has a target net-debt-to-adjusted-EBITDA[1. earnings before interest, tax, depreciation, and amortization] multiple of 3.0x–4.0x. The company has significant access to capital and financial flexibility. It is also steadily trying to reduce its cost of capital.
Expansion strategy
Equinix's development plans include strategic expansions and acquisitions, which help increase its inorganic revenues. The company uses unique market intelligence for strategic capital allocation and captures advantage in global future hubs.
Its competitors Digital Realty Trust (DLR) operates in Asia, Europe, and Canada. Cyrus One (CONE) operates in the US, London, and Singapore. CoreSite Realty (COR) operates in the US.
Revenue mix
Of Equinix's revenues, 95.0% are recurring. Its top 50 customers contribute to 37.0% of its recurring revenues.
Investors looking for exposure to data center REITs can invest in the iShares Core US REIT ETF (USRT). EQIX forms ~4.2% of USRT. Among its competitors, Digital Realty Trust (DLR) forms 2.7% of USRT, Simon Property Group (SPG) forms 6.2% of USRT, and Prologis (PLD) forms ~4.0% of USRT.