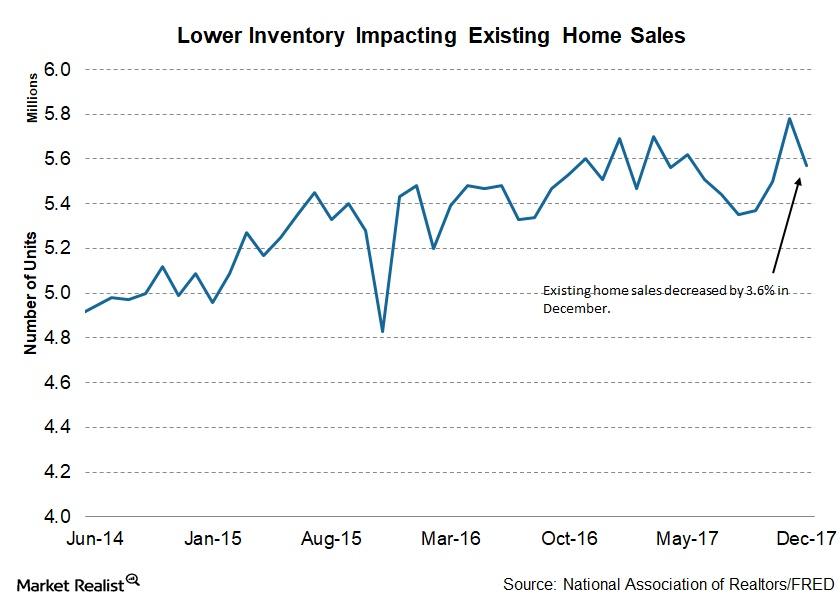 Analyzing the Fall in December's Existing Home Sales
Existing home sales in December
The United States NAR (National Association of Realtors) releases a monthly report on the existing home sales (ITB) market. The report contains information about trends in the housing inventory, total housing inventory, median home prices, and the 30-year mortgage rate. Demand in the housing market (REM) can be assessed through the changes in the inventory of existing home sales.
According to the January report from NAR, existing home sales decreased 3.6% to a seasonally adjusted annual rate of 5.57 million homes in December—compared to a downward revised 5.78 million homes in November. The average commitment rate for a 30-year mortgage increased for the third straight month to 3.92 percent. However, the average commitment rate is still below the 2017 average of 3.99 percent.
Article continues below advertisement
Why sales fell
Lawrence Yun, NAR's chief economist, said that strong economic growth in 2017 helped improve the housing market. In the last two months, Yun said that closings were down. New listings struggled to keep up with demand. Also, buying was less affordable in some parts of the country. The annual growth of 1.1% made 2017 the best year for sales since 2006—an indication that the housing market's trend remained upward.
Price and inventory trends in the housing market
House prices in the US have increased for 70 consecutive months (year-over-year). The median home price (FTY) across the US in December was $246,800—up 5.8% from the previous year. The first-time homebuyers accounted for 32 percent of the total sales in December—an increase from 29 percent in November.
The supply of existing houses has continued to decline. The unsold inventory has a 3.2-month supply. A reading below five months denotes a tight housing (EQR) market. The total housing inventory fell by 11.4 percent to 1.48 million in December. Tighter supply is a positive sign for the industry. As a result, 2018 could be another positive year for the housing sector (IYR).