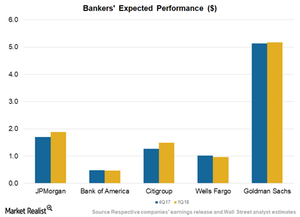 What's Wells Fargo's Outlook for 4Q17?
By Robert Karr

Updated
Future outlook
In the period since the 2007 crisis, the banking sector (IYF) is at a peak. The sector faced headwinds amid near-zero interest rates, a weak macroeconomic outlook, falling oil prices, and weaker global trade. However, improving macroeconomic factors in and outside of the US and rising rates have helped banks boost growth across divisions.
Wells Fargo (WFC) is expected to post EPS of $1.04 and $0.96 in 4Q17 and 1Q18, respectively. The bank's revenues are expected to grow by 2.8% and 0.10%, respectively, over the next two quarters on a YoY basis. EPS growth of 8% in 4Q17 could be boosted by revenue growth, expense management, and continued share buybacks. Trading revenues are expected to rebound sequentially in 4Q17, whereas core banking can benefit from higher interest margins.
Article continues below advertisement
Industry-wide spectrum
Bank of America (BAC) is expected to see a marginal decline in EPS on a sequential basis in 4Q17 to $0.46. However, on a YoY basis, it's expected to see 15% growth backed by a 7.5% rise in revenues to $21.7 billion and improved efficiency. Bank of America is beating peers on trading activity, core banking activities, and improving asset quality.
On the other hand, Citigroup (C) is expected to post $1.26 in 4Q17 and $1.49 in 1Q18. The bank is expected to grow its yearly EPS by 11.7% in 2018, reflecting core banking, asset management, and trading growth. The bank's revenues are expected to grow by 2.9% and 3.3% in the next two quarters.
JPMorgan Chase (JPM) is expected to see a sequential fall in earnings per share to $1.70 in 4Q17 and a strong rebound to $1.89 in 1Q18. The revenue growth for the next two quarters is expected to be 4.2% and 5.9%, respectively, reflecting higher interest income.