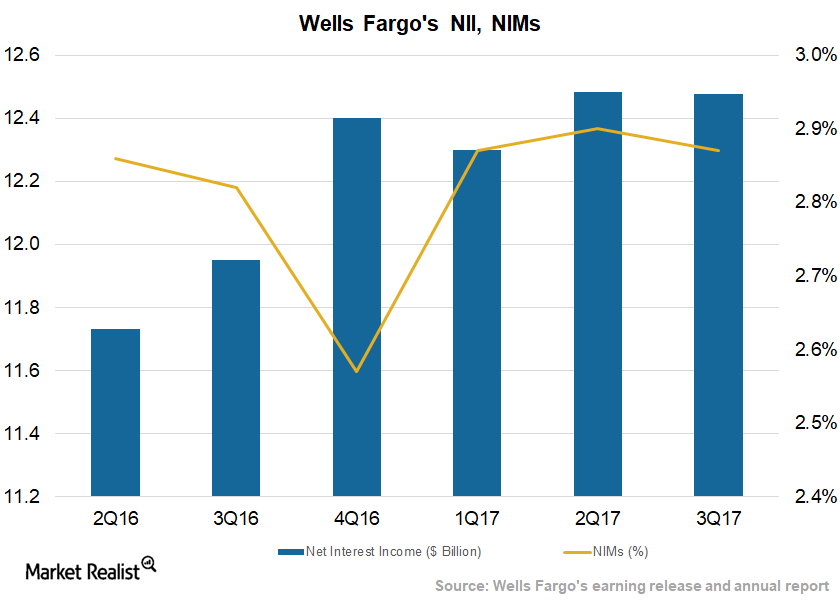 Why Wells Fargo's Net Interest Income Could Rise in 2018
NIMs to remain upbeat
Commercial banks (XLF) have managed to improve their net interest margins (or NIMs) across the board and offerings in 2017, as the Fed has raised rates continually in order to reverse monetary easing. J.P. Morgan (JPM) and Wells Fargo (WFC) command higher NIMs as compared to Citigroup (C) and Bank of America (BAC).
Wells Fargo (WFC) posted net interest income of $12.5 billion in 3Q17, reflecting continuous growth over the past few quarters, which has been helped by a stable credit book and a rise in interest rates. In 2018, any loan book uptick should help in higher net interest income, as the rate hike trend is expected to continue at least for the next year. The bank posted net interest income of $11.9 billion in 3Q16.
Lower tax rates and higher cash flow generation can prompt corporates to prepay their debt, which could partially impact their loan book expansion.
Article continues below advertisement
NIMs
Wells Fargo managed a NIM of 2.9% in 3Q17 compared to 2.8% in the prior year. The margins should stabilize around 3% in 2018 depending on the competition in lending to quality paper or companies. Sequentially, Wells Fargo saw its first dip in NIMs by three basis points mainly due to higher growth in average deposits and trading assets compared to lending activity partially offset by higher cost recovery on select offerings due to rate hikes.
Services and non-interest
Wells Fargo's non-interest income has seen a continued decline in recent quarters to $9.5 billion from $10.4 billion in the prior year. The trend has picked up largely due to lower mortgage-related banking. The bank saw lower trust and investment income, and card fees declined. Mortgage banking slipped 37% in 3Q17, which is expected to reverse in 2018 on prospects in the real estate sector. Trading activity will also remain a key growth driver in the upcoming quarters.