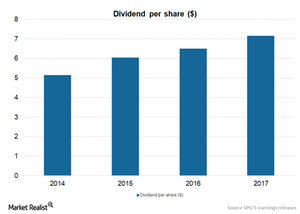 SPG's Stable Dividend Policy
The 90% rule
According to the Securities and Exchange Commission, or SEC, "To qualify as a REIT, a company must have the bulk of its assets and income connected to real estate investment and must distribute at least 90 percent of its taxable income to shareholders annually in the form of dividends."
This rule makes REITs dividends less volatile and independent of the market's ups and downs.
Article continues below advertisement
SPG's stable dividend policy
In 2016, SPG paid a dividend of $6.15 per share, compared to 2015 in which a dividend of $6.05 per share was paid. The adjusted FFO per share figures for 2016 and 2015 were $10.87 and $10.19 per share, respectively.
1Q17 – FFO per share: $2.74, dividend per share: $1.75

2Q17 – FFO per share: $2.47, dividend per share: $1.75

3Q17 – FFO per share: $2.89, dividend per share: $1.80
The company announced a dividend of $1.85 for 4Q17, which is $7.15 per share for 2017. This trend represents a year-over-year increase of 10%, and the company plans to increase the dividend in 2018.
SPG revised its FFO range to $11.17–$11.22 per share for 2018. Steady dividend payouts reflect the company's long-term strategy of providing attractive risk-adjusted returns to stockholders.
Among Simon Property Group's competitors, Equity Residential (EQR) has a dividend yield of ~3.1% for 2017. GGP Inc. (GGP) and Macerich (MAC) have dividend yields of ~3.8% and ~4.7%, respectively, for 2017.
Share repurchase program
During 2016, SPG repurchased 1,409,197 shares at an average price of $181.14 per share. In 2015, the company repurchased 1,903,340 shares at an average price of $180.19 per share.
The company did not buy back any shares in 3Q17 although it had a large amount of liquidity on its balance sheet. SPG is close to several significant redevelopment programs and is following a conservative approach. SPG is in the process of building financial power in order to take advantage of these redevelopment plans.