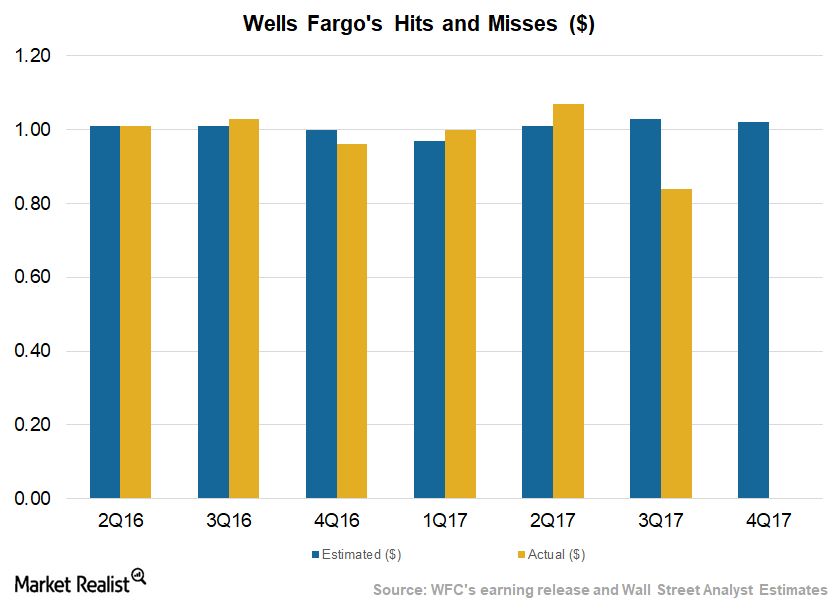 What's Dragging Wells Fargo's Performance amid Rising Markets?
Performance woes
Wells Fargo (WFC) has fallen behind its commercial banking peers (XLF) over the past few quarters. That's largely due to subdued credit offtake, a year marred with controversies, and lower non-interest income. Mortgage-related litigation cost the company $0.20 per share in 3Q17, resulting in EPS (earnings per share) of $0.84. The bank saw a 4% rise in interest income, aided by higher rates and a marginal rise in lending. Non-interest income fell 9% to $9.5 billion on lower mortgage non-interest income.
Article continues below advertisement
Litigation costs
Wells Fargo has posted net income of $4.6 billion, which represents a fall of 18% on a YoY (year-over-year) basis. The fall is due to litigation costs and lower non-interest income.
JPMorgan Chase (JPM), Bank of America (BAC), and Citigroup (C) beat analyst estimates in 3Q17 on high credit offtake and non-interest income, partially offset by subdued trading income.
Deposit growth
Wells Fargo's deposits have shown some positive trends in 3Q17, rising 4% to $1.3 trillion, reflecting new clients and declining attrition as witnessed in 2016. The bank's loans have fallen 1% on a YoY basis to $952 billion in 3Q17, reflecting a weaker penetration in the market compared to its peers.
In its press release on October 13, 2017, Wells Fargo's CEO (chief executive officer) Tim Sloan stated, "Over the past year we have made fundamental changes to transform Wells Fargo as part of our effort to rebuild trust and build a better bank."
Sloan added, "While our financial performance in the third quarter included the impact of a litigation accrual for previously disclosed, pre-crisis mortgage-related regulatory investigations, I am proud of the commitment of our 268,000 team members who put our customers first."
In this series, we'll take a look at Wells Fargo's possible rebound in the upcoming quarters. We'll also look its division performance, dividends, valuations, strategic initiatives, and economic fundamentals that are helping the company.