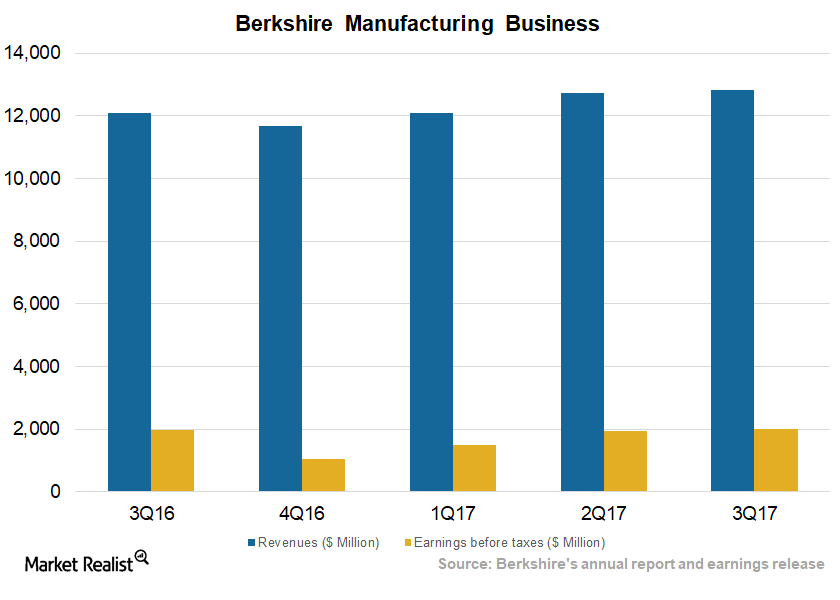 Manufacturing Could Be Main Driver for Berkshire in 2018
Manufacturing push
Berkshire (BRK.B) has expanded its manufacturing portfolio with the addition of Duracell, Precision CastParts, and a stake in Apple (AAPL). The Trump administration is pushing for domestic manufacturing in a bid to boost overall economic growth.
The administration is also targeting lower taxes and favorable policies to attract more manufacturers. Berkshire has traditionally held onto its manufacturing portfolio amid a spurt in demand for owning services businesses. With China focusing more on services and consumption, Trump is pushing for the US to push its contribution in global manufacturing.
Berkshire's major holdings in the manufacturing division (VIS) include:
Precision Castparts: metal products for aerospace, power, and other markets
IMC (International Metalworking): a metal-cutting tools manufacturer
Lubrizol: a chemicals business
CTB: industrial equipment for the agriculture sector
Article continues below advertisement
Stable growth
Berkshire's manufacturing division managed 6.1% top-line growth in 3Q17, totaling $12.8 billion, fueled by growth in industrial and consumer products helped by IMC, Lubrizol, and Duracell growth. The division posted before-tax earnings of $2.0 billion compared to $1.98 billion during the same period last year including a loss of $190 million on the sale of its underperforming bolt-on business.
McLane
Berkshire's retail business, McLane, managed revenues of nearly $12.8 billion with a decline in pre-tax earnings to $45 million. Broad markets (SPY) (SPX-INDEX) have risen on revaluations of manufacturers in the recent quarters. Traditional asset managers like BlackRock (BLK) are also looking to add assets or companies in the category.
In 3Q17, Berkshire's industrial subdivision saw 4% growth due to IMC and Marmon's rise. Building product revenues rose 10% due to an addition of Shaw and MiTek. Consumer products revenues rose due to a 6.9% rise in Forest River and higher sales of Duracell.