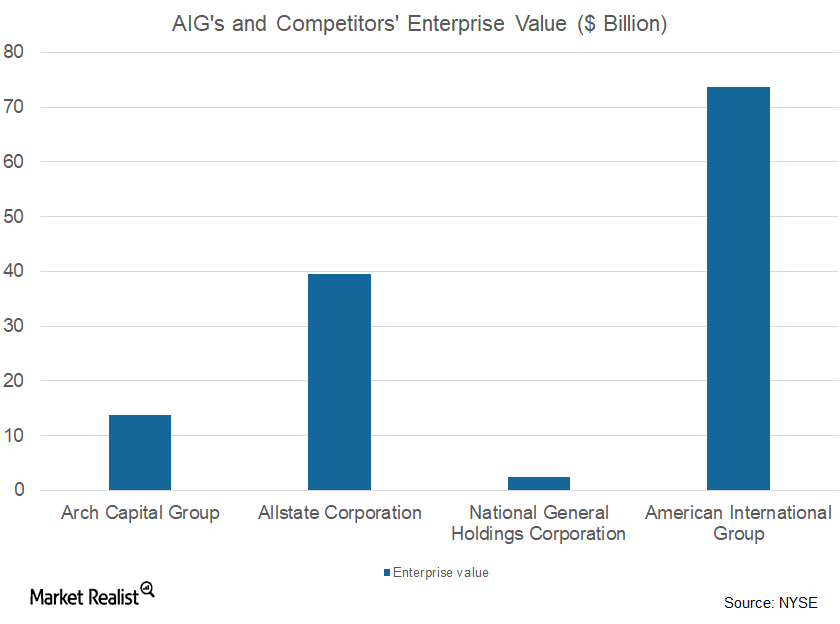 A Look at AIG's Individual Retirement Business
Assets under administration and premiums
American International Group's (AIG) individual retirement business saw its premiums fall 41% to $22 million in 3Q17 from $37 million in 3Q16.
In 3Q17, the division's assets under administration stood at $147.8 billion, due to positive equity markets and a favorable net flow related to index annuities. Whereas AIG has an enterprise value of $73.7 billion, peers (XLF) Arch Capital Group (ACGL), Allstate (ALL), and National General Holdings (NGHC) have enterprise values of $13.7 billion, $39.5 billion, and $2.5 billion, respectively.
Article continues below advertisement
Net investment income and policy fees
AIG's individual retirement division saw its policy fees rise 4% to $190 million in 3Q17 from $183 million in 3Q16. Advisory and other income rose 5% to $158 million in 3Q17 from $151 million in 3Q16. These increases were because of positive equity markets, which boosted account values. The division's net investment income fell 4% from $1 billion in 3Q16 to $973 million in 3Q17.