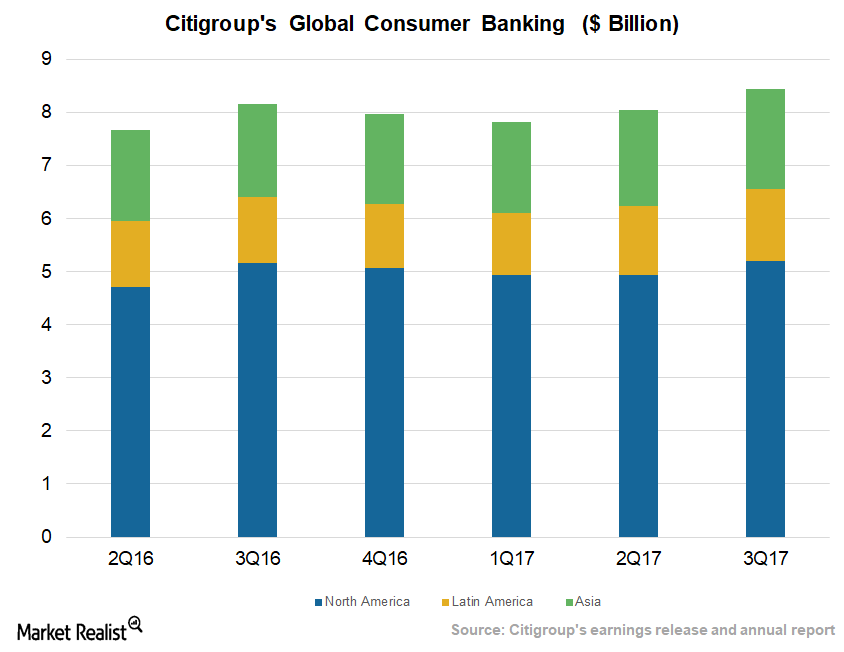 This Could Be a Key Driver for US Banks in 2018
NIMs to remain upbeat but stabilize
NIMs (net interest margins) for commercial banks (IYF) have grown at a faster pace over the past couple of years, resulting in higher net interest income. As the Fed targets further rate hikes, margins are expected to remain upbeat, to rise marginally, and then to stabilize.
Credit offtake has remained subdued since 2Q17, largely due to high operating cash flows, higher valuations, higher equity placements, and higher rates that push for lower borrowing among corporates.
Article continues below advertisement
In 3Q17, Bank of America's (BAC) Consumer Banking business managed 15% growth in net income to $2.1 billion due to high-interest income, operating leverage, and a rise in credit offtake. The bank saw growth across its deposits, loans, and brokerage assets. Its net interest income rose 17% to $922 million, partly offset by a decline in non-interest income.
Core banking forte
Citigroup (C) has also shown strength in its core banking business. The bank's retail loans and deposits of $144.0 billion and $308.0 billion in 3Q17, respectively, grew 2.0% over 3Q16. The bank's average card loans grew 7% to $155 billion. Lending is expected to grow in the range of 2%–3% over the next twelve months.
JPMorgan Chase (JPM) saw strong growth in loans and deposits of 9% and 8% in 3Q17, respectively, on a year-over-year basis. Wells Fargo (WFC) saw a 1% decline in loans to $952 billion from 2Q17, impacted by a decline in commercial loans. WFC's commercial loans fell by $5.7 billion, mainly due to a decline in government and institutional banking, asset-backed and mortgage finance, and commercial dealer services.