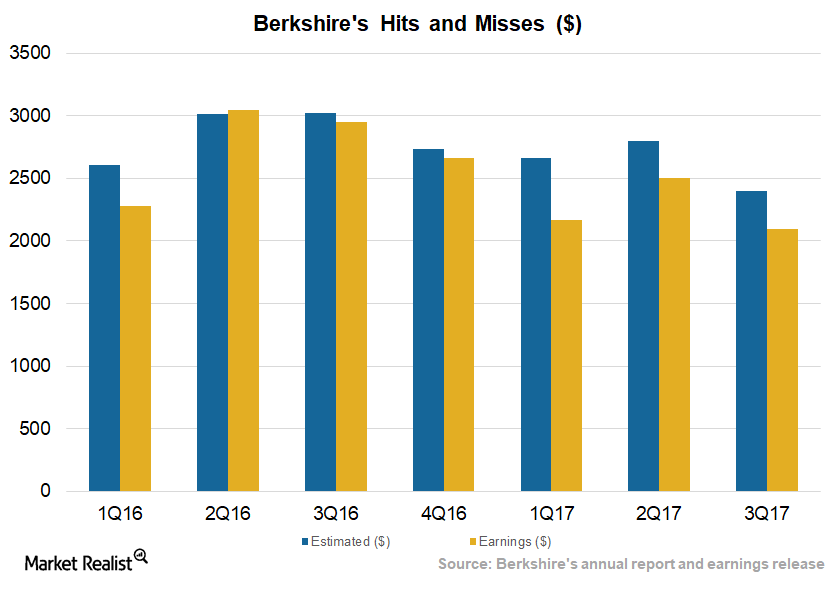 Berkshire's Insurance Segment Hurting Performance in Medium Term
Expected performance
Berkshire Hathaway (BRK.B) has missed estimates in six out of seven quarters mainly due to the weaker performance of the insurance sector as a result of natural disasters. The asset management conglomerate is expected to post EPS of $2,643.6, marginally lower than the figure last year of $2,665 but higher than the 3Q17 performance. The company's other divisions including manufacturing, energy, services, and BNSF posted year-over-year rises in earnings before taxes in the range of 1% to 9% in 3Q17.
Article continues below advertisement
Operating profits fell
In 3Q17, Berkshire missed EPS estimates of $2,402 and posted EPS (earnings per share) of $2,094, which was lower than the $2,951 in the previous year. The earnings fell mainly due to losses in the insurance division partially offset by a rise in earnings for the BNSF and Services divisions. Its operating profit stood at $3.4 billion as compared to $4.1 billion in the previous quarter.
Berkshire's operating profits are expected to rise in 4Q17 and 2018 as losses normalize in the insurance sector and BNSF continues to ride on improved manufacturing in the country. With a market capitalization of ~$450.0 billion, Berkshire is one of the biggest holding companies in the world. The company continues to beat the S&P 500 (SPY) (SPX-INDEX) on a longer-term basis.
Stellar capital built up
Berkshire saw its cash pile grow above $100 billion in 3Q17. The company's investment gains remained subdued in 3Q17 compared to last year, largely due to higher valuations of holdings. The company faces insurance losses in line with other major insurers including AIG (AIG) and MetLife (MET).
In this series, we'll be looking at Berkshire Hathaway's expected performance in 2018, the insurance sector's struggle, growth opportunities, new deployments, repurchases, and valuations.