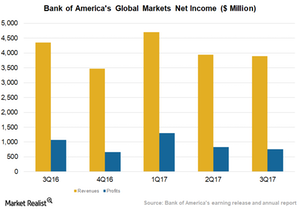 Why Bank Trading Activity Could See Volatility in 2018
By Robert Karr

Nov. 28 2017, Updated 9:04 a.m. ET
Trading activity
Bankers (IYF) have seen subdued trading activity over the past couple of quarters after a record 2016 and 1Q17. The activity is expected to remain low in 4Q17 and pick up marginally in 1H18 as market valuations are steady and high, and investors are looking to hold onto current investments—unless major negative news breaks out. Any kind of volatility driver can help trading activity for commercial banks and brokers.
Article continues below advertisement
In line with the market trend, JPMorgan Chase's (JPM) market and investor services revenues fell 16% in 3Q17 on a YoY (year-over-year) basis to $5.5 billion. The fall was mainly due to lower spreads, lower volatility, and lower flows. Equity derivative trades fell 4%, partially offset by activity in cash trades.
Citigroup (C) managed 3% YoY growth in its Market and Securities division on a 16% rise in equities and a 12% rise in securities services, partially offset by a lower contribution from fixed income. Fixed income trading may see some recovery as the Fed gears up for a rate hike in December.
Wells Fargo declines
In 3Q17, Wells Fargo's (WFC) non-interest income reflected a similar trend with a decline to $9.5 billion, down from $10.4 billion in 3Q16. The fall was mainly due to weaker trust and investment income, card fees, other fees, and mortgage banking, partially offset by gains in trading, equity, and debt instruments.
On a YoY basis, WFC's mortgage banking fell 37%, and trading activity gained 41%.
Bank of America
In 3Q17, Bank of America's (BAC) Global Markets division's net income fell 30.0% to $756.0 million. Profits fell from 2Q17 and from 3Q16, mainly due to the weakness of debt-related sales and trading. Fixed income revenues fell 22%, partially offset by a 2% rise in equities.