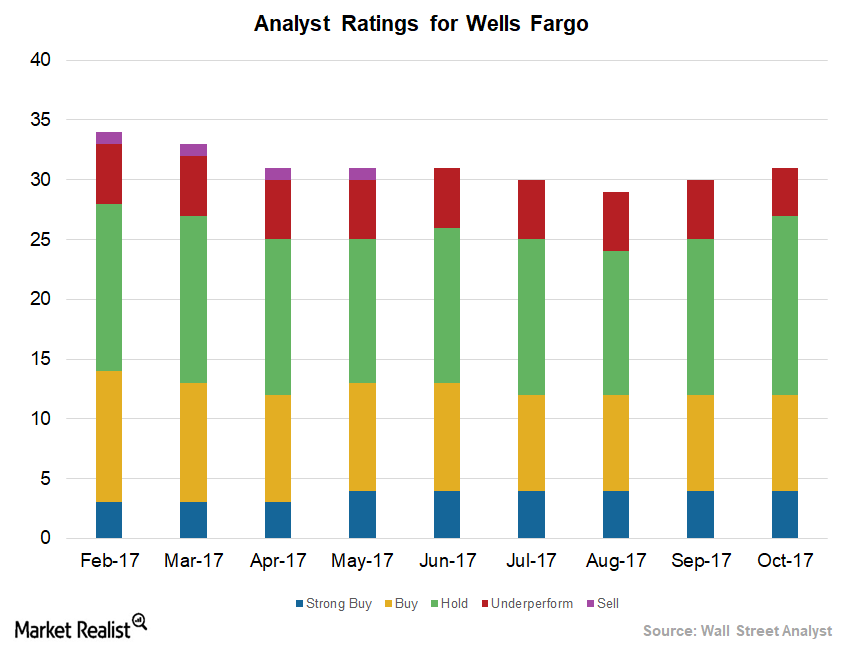 Analysts Are Predicting the Worst Is Over for Wells Fargo
Marginal improvement in ratings
Commercial bankers (IYF) are benefiting from the Trump administration's financial reforms, tax rate cut proposal, and interest rate hikes. They're boosting their core banking income, which is partially offset by subdued trading income. Wells Fargo (WFC) has seen a marginal improvement, with "underperform" ratings declining from five to four and "hold" ratings increasing from 13 to 15. Twelve analysts maintained their "buy" or "strong buy" ratings in October 2017.
Wells Fargo's one-year mean price target is $57.80 per share, implying a 3.5% rise from its current level. That compares to a 31% rise in 2016. The subdued target reflects slower recovery in the upcoming quarters.
Article continues below advertisement
Trailing its peers
Among Wells Fargo's major competitors, Bank of America (BAC) has 22 "strong buys" or "buys" out of 30 ratings in October 2017. The ratings reflect a strong expected performance in the upcoming quarters. Of the remaining eight analysts, seven have given the bank a "hold" rating, and one has given it an "underperform."
Citigroup (C) has 17 "buys" or "strong buys" out of 29 analysts in October 2017. Ten analysts have rated it a "hold," and two have rated it "underperform" or "sell." The bank has a price target of $76.05, with an upside of 3.1%.
JPMorgan Chase (JPM) has a weaker upside potential, according to Wall Street analysts. Of the 28 analysts covering the stock, it has 13 "hold" ratings, two "underperform" or "sell" ratings, and 13 "buy" ratings.