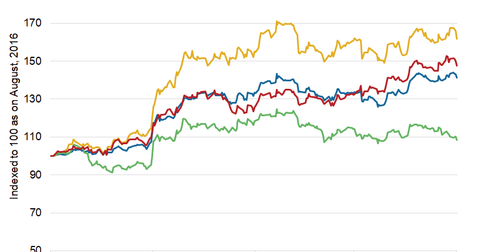 How the Proposed Tax Plan Could Impact US Banks
By Robert Karr

Updated
Trump's tax cut plans
The Trump Administration has proposed a massive cut in corporate taxes to 20% from the current rates of 35%. The proposal hasn't been passed by Congress. The proposed rate cut would benefit banks in the form of lower taxes and higher deposits. Additional cash flow generation for corporate clients should help asset management growth and trading activities. Major commercial banks (XLF) including JPMorgan Chase (JPM), Bank of America (BAC), Wells Fargo (WFC), Citigroup (C), Goldman Sachs (GS), and Morgan Stanley (MS) have seen average effective tax rates in the range of 25%–28% in 2017. Reducing the tax rates to 20% would attract a windfall gain of 5%–8% in the net profits.
Article continues below advertisement
Substantial windfall
Banks have already benefited in recent quarters due to rate hikes that resulted in higher net interest margins. However, tax rate cuts could help them substantially at least in the short to medium term. Rate cuts would help corporates generate higher cash flows. Banks could see an interim decline in credit growth. Credit growth could slow down due to rate hikes, while higher cash flow generation could be driven by tax rate cuts. In the medium to long term, it could push manufacturing in the US. As a result, there should be higher capex plans from corporates.
Overall, the additional cash generated in the system should benefit banks. The capital would find its way to banks in the form of deposits, wealth, and asset management products, trading, and Treasury activities. In the next part, we'll discuss how credit growth could be impacted in the medium term. We'll discuss slippages, wealth creation products, and manufacturing.