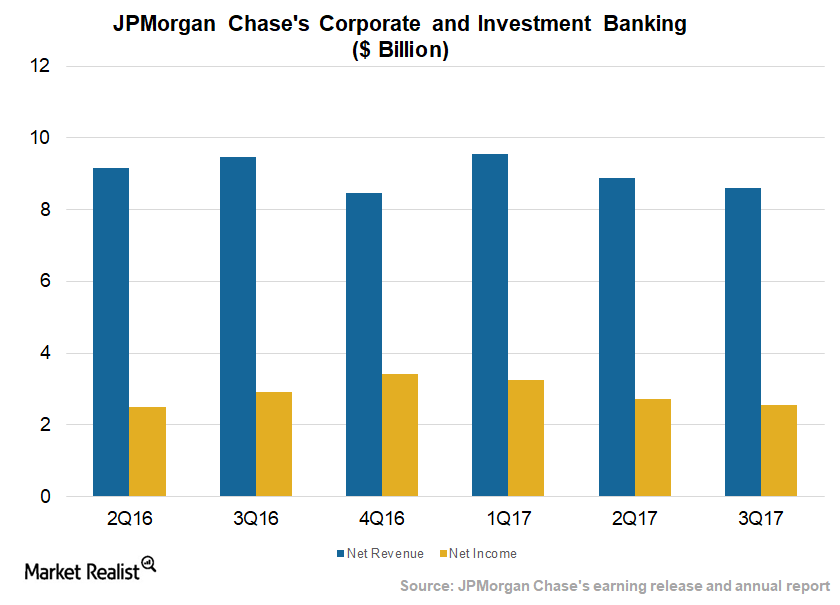 JPMorgan Chase's Trading Declines across Offerings in 3Q17
By Robert Karr

Aug. 18 2020, Updated 5:36 a.m. ET
Corporate and Investment Banking division
JPMorgan Chase (JPM) posted net revenues of ~$8.6 billion for its Corporate and Investment Banking division in 3Q17, compared to ~$9.5 billion in 3Q16 and ~$8.9 billion in 2Q17. The division's banking revenues expanded 5% to ~$3.1 billion, helped by higher rates, advisory fees, increased deposits, and higher lending revenues. Its revenues were partially offset by lower underwriting revenues.
JPM ranked first in global investment banking fees for 3Q17 compared with peers (XLF) Goldman Sachs (GS), Bank of America (BAC), and Morgan Stanley (MS).
CIB's investment banking revenues declined 2% mostly due to lower equity and debt underwriting and partially offset by improved advisory fees. JPMorgan Chase garners advisory fees on fundraising, strategic transactions, and trading activities under its Corporate and Investment Banking division.
Article continues below advertisement
Trading declines
CIB's market and investor services revenues fell 16% in 3Q17 on a year-over-year basis to $5.5 billion. The decline was driven by 27% lower revenues mostly due to lower flows, volatility, and lower spreads compared with 3Q16. The division also saw a 4% decline in equities on lower trades in derivatives, partially offset by trade in cash equities.
CIB's expenses fell 3% on a year-over-year basis to ~$4.8 billion, mostly due to lower employee compensation. The net reserve release in energy resulted in a benefit of $26 million compared to losses of $67 million in 3Q16. The division's net income has declined to ~$2.6 billion compared to ~$2.9 billion in 3Q16 and ~$2.7 billion in 2Q17.