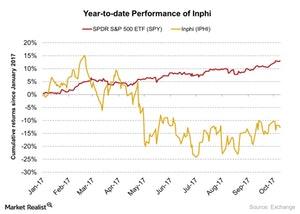 What Factors Could Drive Inphi's Earnings in the Long Run?
Bank of America on Inphi
BAC wrote that Inphi "has secular growth tailwinds in its core comms/data ctr businesses, b) 20%+ EPS growth rate, and c) semi consolidation wave likely to continue especially given large semi peers trying to diversify away from short life cycle consumer to longer and stickier product segments."
Article continues below advertisement
Inphi has a strong position in providing analog signal semiconductor solutions for datacenters and communications. BAC believes the strong demand for these services will remain for a long time and the company will see strong earnings growth. IPHI is currently trading at a forward PE (price-to-earnings) multiple of 23.6x. However, its one-year EPS (earnings per share) growth rate remained negative at -5.2%.
Inphi's performance
Inphi stock has fallen 12.0% on a year-to-date basis as of October 9, 2017. Over the past year, the stock has fallen 10.0%. The Technology Select Sector SPDR ETF (XLK), which tracks the performance of the technology sector, has risen 21.0% on a year-to-date basis as of October 9, 2017. BAC raised Inphi's current target price to $46, which is an 18.0% upside from the closing price on Monday, October 9, 2017.
In the next part of this series, we'll look at Bank of America Merrill Lynch's view on Advanced Micro Devices (AMD).