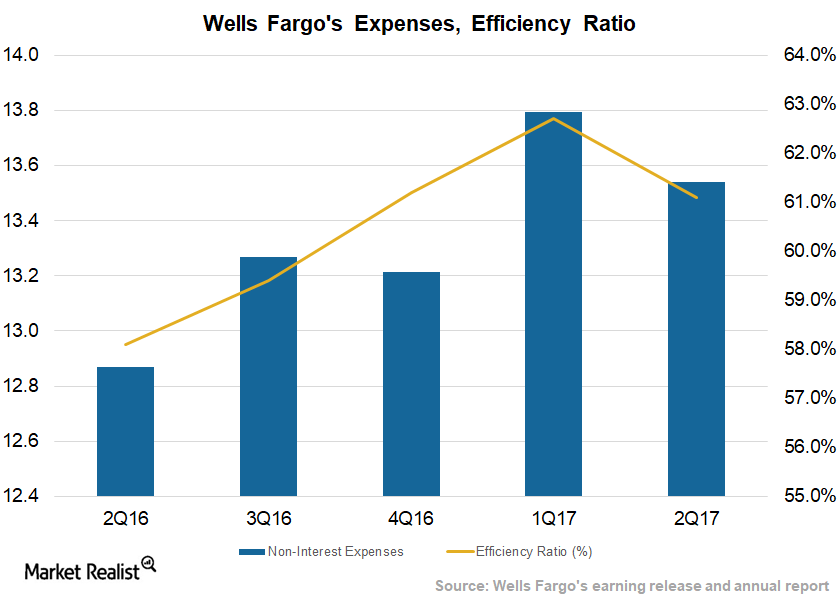 Why Wells Fargo's Spending Is Rising amid Subdued Income Levels
By Robert Karr

Sep. 8 2017, Updated 7:37 a.m. ET
Rising spending
Wells Fargo (WFC) has continued to spend on employee expenses, FDIC, equipment, and other services amid declining non-interest income and marginal growth of interest income driven largely by rate hikes. Historically, it has garnered one of lowest efficiency ratios, a percentage of non-interest expenses to total income net of interest expense, due to higher margins on various offerings, and strong retail presence. However, in the recent months, it has seen a slower expansion of credit, mainly due to bad publicity due to its fake account opening scam.
Article continues below advertisement
Wells Fargo's posted non-interest expenses of ~$13.5 billion, a rise of 5% over 2Q16, and a decline of 2% from 1Q17. Sequentially, its expenses fell $251 million, mainly due to lower commissions, equipment expenses, employee benefits, partially offset by higher salaries and other professional services.
Commercial banks (IYF) have been targeting lower expenses and efficiency ratios to boost margins since 2008 due to near zero rates and lower margins. Compensations have risen for Wells Fargo's peers JPMorgan Chase (JPM), Citigroup (C), and Goldman Sachs (GS) due to improved performances, sales, fund flows, credit, and trading. But as the outlook for 2H17 is stable, incentives and commissions are expected to remain subdued in the upcoming quarters.
Declining efficiency?
Wells Fargo's efficiency ratio improved sequentially to 61.1% in 2Q17 on lower commissions. However, its ratio rose on a YoY (year-over-year) basis, on declining margins, higher employee spending, FDIC (Federal Deposit Insurance Corporation) and other deposits, equipment, and professional services.
In 1Q17, WFC's efficiency ratio peaked at 62.7% on higher expenses compared to ~58% in 2Q16, reflecting a dent of 300 to 400 basis points. Wells Fargo's ability to command higher margins and valuations also depends on its ability to improve efficiency. In 2H17, WFC expects to see subdued growth in its top line and zero to marginal improvement in efficiency.