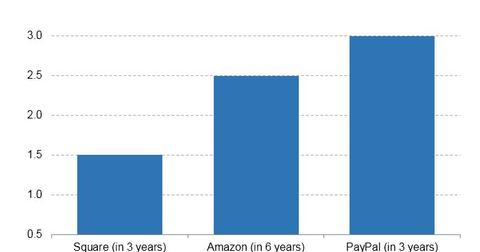 Why PayPal Is Acquiring Swift Financial
By Neha Gupta

Updated
Expanding PayPal Credit
Reuters reported that PayPal (PYPL) is acquiring Delaware-based Swift Financial for an undisclosed amount. Founded in 2006, Swift Financial writes loans for business borrowers.
PayPal is working to expand its credit business by acquiring Swift Financial. Through PayPal Credit, PayPal provides small loans to its merchant customers that are intended to be used for working capital. Since 2013, PayPal has supplied more than $3.0 billion in small business loans to ~115,000 small businesses.
Article continues below advertisement
Over $56 million in venture capital
Swift Financial counts Sutter Hill Ventures and First Round Capital among its backers. Swift Financial had raised more than $56 million when it agreed to sell itself to PayPal.
For the transaction to close, regulators must approve PayPal's proposal to acquire Swift Financial. Once the deal closes, PayPal would add Swift Financial employees to its Business Financial Solutions team, retain the majority of Swift's leadership, and continue to run the firm's area offices.
Filling a gap in the credit market
PayPal's acquisition of Swift Financial marks an escalation of competition with Square (SQ) and Amazon (AMZN) for control of the alternative lending market. Since the 2007 financial crisis caused large banks like Bank of America (BAC) and JPMorgan Chase (JPM) to reduce their exposure to risky lending, there has been an unmet credit need in the small business and consumer lending markets. 
As such, online payment processors like PayPal and Square are moving to fill the gap and in the process, generate additional revenues.