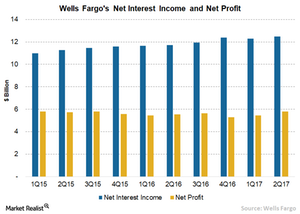 What Just Happened to Investment Bank Rankings?
By Peter Barnes

Updated
Wells Fargo may face a strong penalty
During a press conference last week, Federal Reserve Chair Janet Yellen criticized Wells Fargo (WFC) for its fake account scam. Yellen called Wells Fargo's actions "egregious and unacceptable." Though she didn't elaborate what actions the central bank would take, it looks as though Wells Fargo may face a strong penalty from the Fed.
Article continues below advertisement
Goldman Sachs down to third position
The investment bank ranking for the first half of the year from data-analytics company Coalition shows a notable shift. JPMorgan Chase (JPM) continued to dominate the competition as the world's biggest investment bank by revenue across fixed income, equities, and banking.
Surprisingly, Goldman Sachs' (GS) has been moved down to its worst-ever position since the ranking began in 2007. Goldman Sachs (GS) and Bank of America Merrill Lynch (BAC) are jointly ranked third place. In 2007, Goldman was ranked second place, and now, Citigroup (C) holds this position due to its strong performance in FICC (fixed income, currencies, and commodities).
Equifax may lose bank support
The US consumer credit reporting bureau Equifax might lose banks' (XLF) support if it continues to show laxity in its operations. Previously, Equifax had announced a massive security breach to its consumer credit files, under which personal information of 143 million people had been breached.
Since then, banks have been critical about Equifax's operations. US banks give information on consumer debts and payments to Equifax, which then compiles the information into a credit report. Equifax sells the reports to other creditors, including mortgage and credit card lenders, landlords, and hospitals.