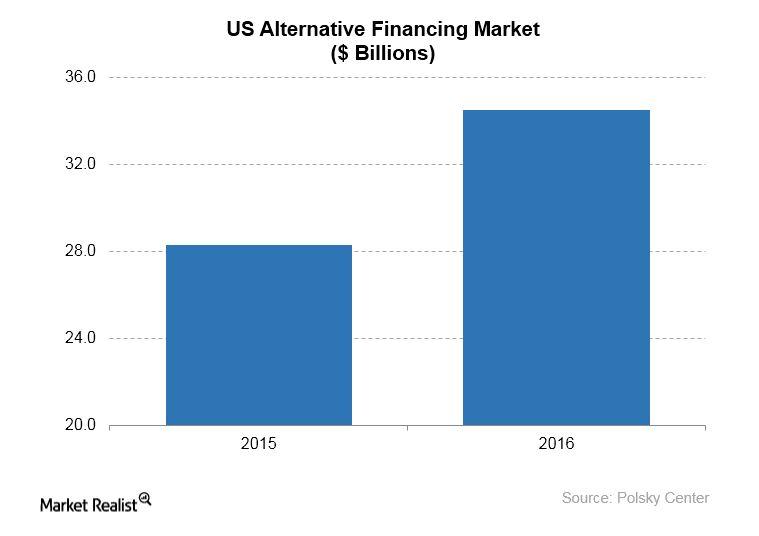 Alternative Lending: What's the Opportunity for PayPal?
Large portfolio of credit customers
PayPal's (PYPL) expansion into the alternative lending market is getting a boost from the acquisition of Swift Financial. As an alternative credit provider, Swift Financial has written more than $1.5 billion in loans and advances to small businesses since its inception in 2006.
Swift Financial is bringing to PayPal years of experience in the alternative finance market and a large portfolio of credit customers. More than 20,000 borrowers have utilized Swift Financial's credit facility.
Article continues below advertisement
Unmet need in the alternative finance market
As PayPal pushes deeper into the alternative lending market, it is important for investors to understand the revenue opportunity that the company is pursuing.
Large lenders such as Citigroup (C), Bank of America (BAC), and JPMorgan Chase (JPM) have mostly retreated from the business of lending to small businesses and consumers to lower their risk profiles. As a result, the demand for alternative loans has increased.
A trillion-dollar industry
According to the Polsky Center, the alternative loan volume in the US (SPY) rose to $34.5 billion in 2016, up from ~$28.3 billion in 2015, as illustrated in the chart above. Therefore, the US alternative finance market alone presents a significant revenue opportunity for PayPal. In 2016, PayPal's total revenues reached $10.8 billion, up from $9.2 billion in 2015.
Globally, the alternative lending industry is expected to grow to ~$1 trillion in the coming decade. PayPal is vying for revenue opportunities in the alternative lending market against companies like Square (SQ), Amazon (AMZN), and LendingClub (LC).