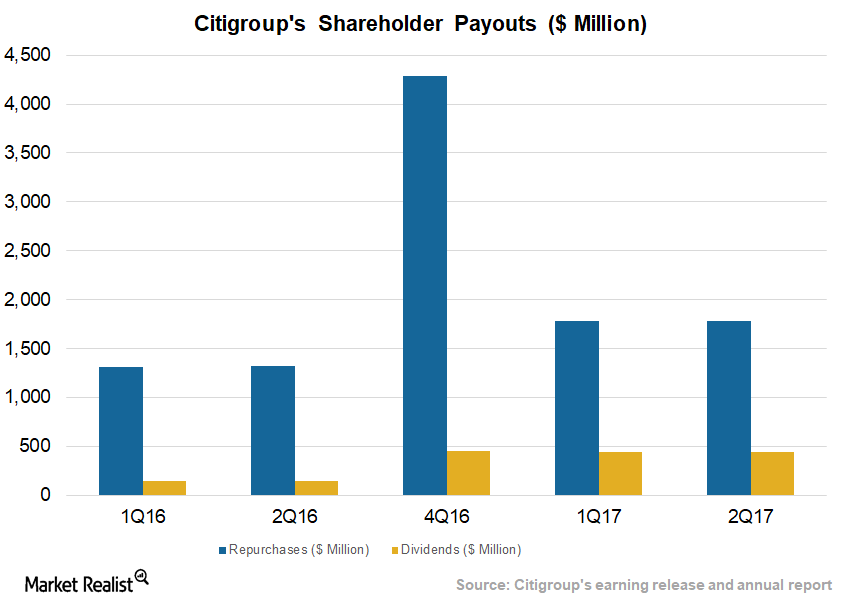 Why Citigroup Shareholder Payouts Are Now Rising
Shareholder payouts
Citigroup (C) has consistently enhanced payouts for shareholders in recent quarters as its operating performance improves amid rising margins, credit offtake, and an improved business environment. In 2Q17, the banking giant returned $2.23 billion to its shareholders in the form of dividends and repurchases, which was in line with the previous quarter but higher than its $1.47 billion in 2Q16.
On an LTM (last-12-month) basis, the bank has returned $12.2 billion, accounting for 6.5% of its market capitalization. The bank paid total dividends of $445 million, or $0.16 per share, translating into an annualized dividend yield of 1.12%.
Citigroup's peers announced the following dividend yields:
Article continues below advertisement
Continued buybacks
Citigroup repurchased ~29 million shares in 2Q17, for a total of $1.78 billion at an average price of $62 per share. In 2Q16, the bank returned a total of nearly $1.5 billion in the form of dividends and repurchases.
Citigroup's payout ratio rose to 63% in 2Q17, compared with 40% in 2Q16, reflecting the bank's efforts to restore investor confidence by improving payouts and performance. The bank's return on total capital employed fell to 7.8% in 2Q17, compared with 8.0% in the prior year and 8.5% in the previous quarter.
Citigroup has been relatively weaker in rewarding shareholders than its major banking peers (XLF), mainly due to its weaker operating performance. However, as the bank strengthens its core banking business, its payouts have enhanced on a per-share basis as well as in terms of percentage of cash flow generation.
Future payouts will likely depend on the bank's ability to enhance credit offtake amid stable to high net interest margins.