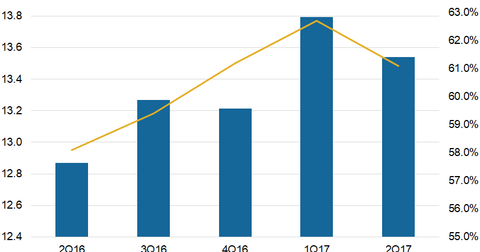 Which Banks Are Operating with the Highest Efficiency?
By Robert Karr

Aug. 18 2017, Updated 4:41 a.m. ET
Controlled spending
Among the major US banks, Bank of America (BAC) has seen a decline in non-interest expenses over the past few quarters. In 2Q17, Bank of America's expenses stood at ~$13.7 billion, representing a sequential decline. These expenses were partially offset by lower litigation and other operating costs.
BAC's non-personnel expenses increased to $6.0 billion from $5.8 billion, reflecting an industry-wide trend. Banks have increased their spending on hiring strong teams and managers.
Bank of America achieved an operating leverage of 500 basis points in 2Q17. The bank (XLF) garnered a 60% efficiency ratio, compared to 63% in 2Q16, which reflects lower spending. An efficiency ratio is calculated as the percentage of operating expenses divided by net revenues.
Article continues below advertisement
In 2017, JPMorgan Chase (JPM) expects its net interest income to increase by $4 billion. It also expects adjusted expenses of ~$58 billion, reflecting stable interest income and operating margins. Its interest income growth is expected to be mostly due to 8% expected loan growth with expected net charge-offs.
WFC's high expenses
Wells Fargo (WFC) has seen relative underperformance with its expenses rising over the past few quarters. In 2Q17, the bank's non-interest expenses stood at ~$13.5 billion, a rise of 5% over 2Q16. Wells Fargo's efficiency ratio improved sequentially to 61.1%. However, it rose on a YoY (year-over-year) basis, reflecting declining margins, FDIC (Federal Deposit Insurance Corporation) and other deposits, higher employee spending, and professional services.
Citigroup's (C) efficiency ratio was flat at 59% in 2Q17, the lowest among major bankers and reflecting stable spending and costs. The bank's operating expenses grew 1% to ~$10.5 billion in 2Q17. On a constant-dollar basis, its expenses increased 2%, mainly due to performance-related compensation, investments, and business volumes. Its expenses were partially offset by efficiencies and sale of legacy assets.
Citigroup saw its credit costs rise to ~$1.7 billion, representing 22% growth on a YoY basis. The rise was mainly due to its net credit losses rise by $94.0 million to ~$1.7 billion and a lower reserve release of $16.0 million, compared with $256.0 million in 2Q16.