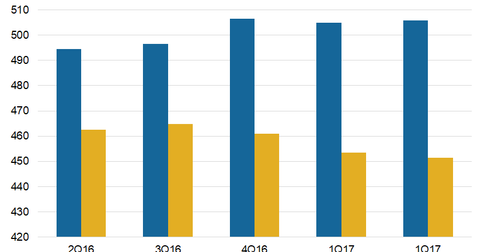 JPMorgan Chase Leads the Field in Expanding Its Loan Book
By Robert Karr

Updated
Expanding loan book
Banks have been successfully expanded their loan books since 3Q15, backed by robust consumer and commercial offerings. Bank of America's (BAC) loan book expanded to $917.0 billion on June 30, 2017, compared to $903.0 billion in the previous year.
Bank of America reported total assets of ~$2.3 trillion, compared to ~$2.2 trillion during the same period in 2016, driven by higher deposits and lending activity. The bank reported balance sheet expansion on deposits, trading, and investment management.
Citigroup (C) reported retail loans and deposits of $142 billion and $307 billion, respectively, in 2Q17. These numbers reflect 1% and 3% growth, respectively, on a year-over-year basis. The bank has reported strong 15% growth in average card loans to $152 billion.
JPMorgan Chase (JPM) witnessed the strongest growth in loans and deposits of 9% and 10%, respectively, among the major banks. However, its business has slowed marginally in the Investment Banking division, but it still leads other bankers (IYF).
Article continues below advertisement
Wells Fargo lags
In recent quarters, Wells Fargo (WFC) has seen the slowest credit offtake when compared with its peers. WFC had total loans of $957 billion on June 30, 2017, a marginal decline compared with $958 billion in 1Q17. This decline was mostly due to tighter underwriting guidelines in the auto loans category, resulting in lower originations.
Wells Fargo's total loan book and commercial lending stood at $505.9 billion on June 30, 2017, and its consumer lending totaled $451.5 billion. The bank saw a decline of $1.1 billion in commercial lending in 2Q17, and a $5.6 billion decline in consumer lending.