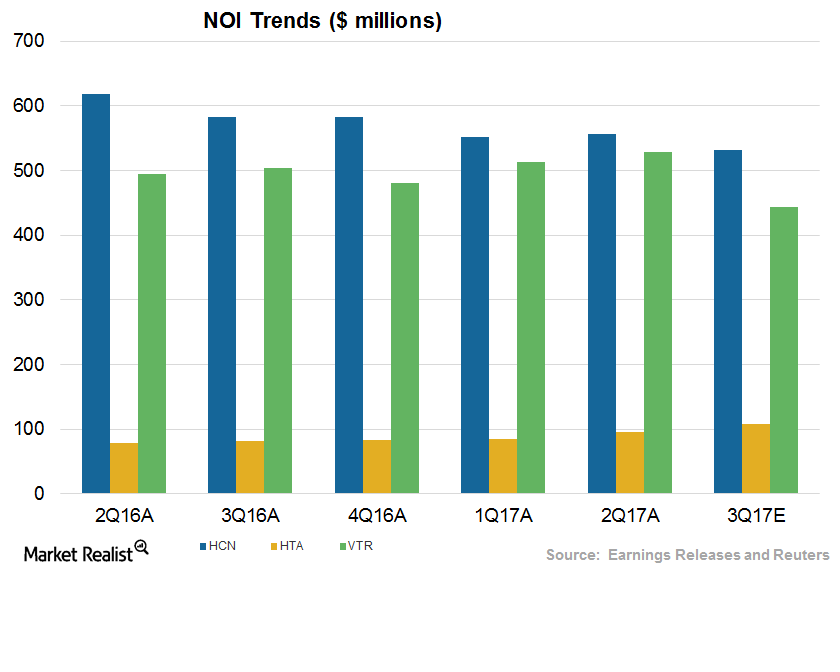 Healthcare REITs and How They Managed Expenses in 2Q17
By Jennifer Mathews

Aug. 18 2017, Published 1:43 p.m. ET
Why cost control matters
Healthcare REITs regularly carry on development and redevelopment projects to bolster their presence in the industry. In order to deliver premium healthcare to consumers, they spend heavily on maintenance and repairs of their properties.
Healthcare REITs fund their working capital through debt and equity. So it's important to optimize their spending in order to maximize income. Let's find out how well the top three healthcare REITs—Welltower (HCN), Healthcare Trust of America (HTA), and Ventas (VTR)—managed their expenses during 2Q17.
Article continues below advertisement
Welltower expects to have fewer expenses for 2017
Welltower's 2Q17 NOI (net operating income) rose 3.0% YoY (year-over-year) to $473.7 million. NOI growth in senior housing facilities, a long-term secured portfolio, and outpatient medical facilities drove its income growth during the quarter. Welltower had 18.0% fewer G&A (general and administrative) expenses at $32.6 million for 2Q17, backed by higher operational efficiency.
Welltower expects lower G&A expenses of $130.0 million–$132.0 million compared to $135.0 million, due to its cost reduction initiatives.
Ventas reported higher NOI from increased sales
Ventas's SSNOI (same-store net operating income) rose 1.5% YoY due to 2.0% higher NOI in its triple net leased portfolio, 0.40% higher NOI in its senior housing operating portfolio, and 2.2% higher NOI in its medical housing portfolio. Although total expenses rose from $723.5 million to $745.3 million, higher revenue resulted in a rise in income during the quarter.
Healthcare Trust of America's NOI
NOI for Healthcare Trust of America came in at $96.4 million, a 23.3% rise from the year-ago period. SSNOI rose 3.1% to $75.0 million. The company incurred 25.0% higher G&A expenses compared to the previous year. It also incurred interest expenses of $17.9 million during the quarter.
The three REITs, along with Public Storage (PSA), account for 26.0% of the iShares Residential Real Estate Capped (REZ). The ETF has an expense ratio of 0.48%.