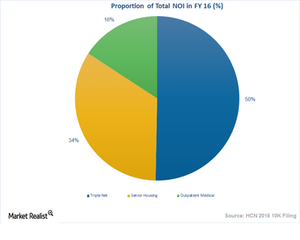 Innovation and Foreign Investment Drive Welltower's Growth
By Jennifer Mathews

Aug. 18 2020, Updated 6:16 a.m. ET
Welltower rides high on growth trajectory
Welltower (HCN) has successfully set itself on a growth trajectory backed by strategic initiatives, aiding its steady top line growth. The company partners with top-notch operators and has successfully built premium healthcare facilities for customers in affluent locations, generating income growth.
Welltower maintains its profitability by way of rationalizing its portfolios and improving the efficiency of its operations.
Article continues below advertisement
Welltower carries out innovations to enhance its portfolio. The company focuses on the integration of its business segments, building efficiency and transparency based on authentic data. This method of integration helps the company to decrease its general and administrative costs and successfully model growth. The chart above shows the proportions of net operating income (or NOI) contributed by the company's different types of properties.
Welltower uses data to control many expenses for its operators, including food, labor, and staffing. These data also help the company to understand why one of its operators might be experiencing higher costs than the others. 
Further, Welltower uses technology in its properties to help physically challenged residents to make use of telemedicine facilities with videoconferencing and remote monitoring. These value-added services offered to end customers and partners help Welltower to maintain its leadership in the industry and ensure steady top line growth.
Article continues below advertisement
Foreign investment
Welltower includes institutionalized foreign investment in its healthcare infrastructure. In February 2016, the Canada Pension Plan Investment Board (or CPPIB) and Welltower joined forces to acquire a 97.5% interest in six senior housing properties located in Florida. The portfolio, known as Aston Gardens, was leased to Discovery Senior Living, a high-quality operating partner. The asset is included in Welltower's premium portfolio.
In November 2016, China's Cindat Capital Management and Union Life Insurance inked a deal to invest in a Welltower portfolio of 11 senior housing assets and 28 long-term, post-acute care real estate assets.
Such foreign investments provide a very large global source of capital for the company. They also provide it with a platform to bolster its footprint in the global market.
Welltower competes with REITs (real estate investment trusts) such as HCP (HCP), Healthcare Trust of America (HTA), and Ventas (VTR). The Vanguard REIT ETF (VNQ), which holds almost 9% in Welltower, HCP, Ventas, and Healthcare Trust of America, has a market cap–weighted index with a wide product portfolio covering industries such as healthcare, self-storage, and residential REITs.
In the next article, we'll see how Obamacare affects Welltower.