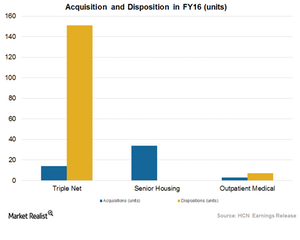 How Obamacare Has Affected Welltower and Healthcare REITs
By Jennifer Mathews

Jul. 18 2017, Updated 7:36 a.m. ET
All about the repeal of Obamacare
The new administration under President Donald Trump has taken a key step toward repealing the Affordable Health Care Act, more popularly known as Obamacare.
The reformed Act, which has yet to become a bill, ends the requirement of compulsory medical coverage. It proposes a tax credit to individuals who want to buy medical coverage if they don't get it at work. Further, the proposed Act will remove many taxes that were used to fund Obamacare and will wind down Medicaid over the next few years. However, the new bill and the future of Obamacare will have a significant impact on healthcare REITs (real estate investment trust).
Article continues below advertisement
Impact of repeal of Obamacare on REITs
Healthcare REITs such as Welltower (HCN), HCP (HCP), Healthcare Trust of America (HTA), and based Ventas (VTR) are also eagerly awaiting the fate of Obamacare.
The Vanguard REIT ETF (VNQ) has a market cap–weighted index with a wide product portfolio covering industries such as healthcare, self-storage, and residential REITs. Healthcare REITs hold senior housing facilities, long-term care facilities, nursing homes, skilled nurses' facilities, and biotechnology facilities.
Senior housing facilities aren't too affected by Obamacare. They mostly depend on demographics and several other macroeconomic indicators. The aging population and the recent secular shift of the demographic toward cities is expected to keep the demand for senior housing facilities high.
On the other hand, skilled nursing facilities are expected to be heavily affected by the future of Obamacare. Medicare and Medicaid are major sources of revenue for the skilled nursing facilities. If the new law under the Trump administration comes into force, it will likely mean bad news for skilled nursing facilities.
Moreover, under the new bill, there would be fewer people with medical coverage, which would likely lead to fewer visits to hospitals and long-term care facilities. Such a change is expected to negatively impact the revenues of REITs' nursing homes and long-term care properties.
Welltower not deterred by the new bill
According to Welltower's CEO, Thomas Derosa, Welltower has slowly transitioned itself from a fee-for-service company to a more value-based company. Derosa is hopeful that the repeal of Obamacare will help the company in its transitional phase. The chart above shows how the company plans to rationalize its portfolio to transform itself into a value-based company.
Welltower is confident that the repeal of the Obamacare will benefit healthcare landlords, as it's kept a surplus of hospitals open, and the company could deliver better results in a different setup. Management is also confident that a repeal will help the company to save on many costs.
In the next article, we'll see how HCN returns value to its shareholders.