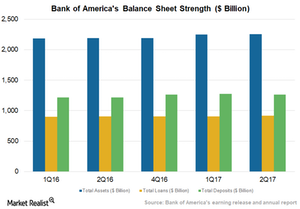 Bank of America's Loan Book Expansion and Strong Balance Sheet
By Robert Karr

Updated
Expanding loan book
Bank of America's (BAC) loan book expanded to $917.0 billion on June 30, 2017, compared to $903.0 billion in the same period in 2016 and $903.0 billion in the previous quarter. The banking giant reported total assets of ~$2.3 trillion on June 30, 2017, compared to ~$2.2 trillion on June 31, 2016, driven by higher deposits and lending activity. 
Bank of America has seen its balance sheet expand on deposits, trading, and investment management. The bank has an improved common equity Tier 1 ratio of 11.6% in 2Q17, compared to 10.6% in 2Q16. This trend reflects lower provisions and improved asset quality.
Other major commercial banks (XLF) such as JPMorgan Chase (JPM), Citi (C), and Goldman (GS) have also seen a strong rise in deposits due to wealth creation and improving macro fundamentals.
Article continues below advertisement
Strong balance sheet for core banking
Bank of America has seen a steady rise in its core banking business, with trading forming a significant contribution in 1Q17. Core banking rose in 2Q17 on rising interest rates, higher net interest margins, and smooth credit offtake for consumers and commercial customers. 
The banking giant managed deposits totaling ~$1.3 trillion on June 30, 2017, compared to ~$1.2 trillion at the end of 2Q16. The company sold its non-US credit card business, realizing an after-tax gain of $103.0 million in the quarter.
Bank of America posted healthy returns of 0.93% on assets, 8.0% on common equity, and 11.2% on average tangible common equity. The bank's book value rose 5.0% to $24.88 per share, and its tangible book value per share rose 6.0% to $17.78 per share.