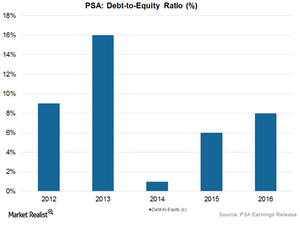 How Public Storage Maintains Its Balance Sheet
By Jennifer Mathews

Jun. 27 2017, Updated 9:06 a.m. ET
Balance sheet leverage is important
REITs such as Public Storage (PSA) distribute at least 90% of their taxable incomes to shareholders in the form of dividends and share repurchases.
However, the company's only source of income is the rent it obtains from the leasing of its properties. REITs depend on debt and equity to fund their operations. Moreover, for expansion in the form of acquisitions and redevelopments, self-storage facility owners also have to depend on debt.
Article continues below advertisement
Debt-to-equity ratio
Public Storage has been successful in maintaining a low debt-to-equity ratio in the last five years. The company reported debt-to-equity ratios of 0.09x, 0.16x, 0.01x, 0.06x, and 0.08x, respectively, in 2012, 2013, 2014, 2015, and 2016.
During 1Q17, PSA's debt-to-equity ratio was 0.08x. The industry median debt-to-equity ratio was 1.07x. The chart above shows the company's debt-to-equity ratio trend over the past five years.
PSA's total debt-to-total equity ratio is 4.2%. Its major peers Life Storage (LSI), Macerich Company (MAC), and Extra Space Storage (EXR) have much higher total debt-to-total equity ratios of 79.2%, 120.9%, and 191.8%, respectively.
The iShares Cohen & Steers REIT ETF (ICF), which holds nearly a combined 9% in Public Storage and Extra Space Storage, has a 90-day average volume of 0.24 million shares. Its traded volume was lower due to the industrial headwinds faced by REITs.
Average interest rates
PSA incurred higher interest expenses in 2016 compared to the previous year mainly due to its higher outstanding debt. While its interest expenses stood at $8.4 million in 2014, they fell to $3.3 million in 2015. They shot up again to $9.4 million in 2016.
During 2016, PSA's weighted average effective rate for senior unsecured notes was 2%, and it was 4% for mortgage notes. The expected life of maturity on its debt has been five years for the last three years. However, its risk-free rate of interest fell to 1.2% in 2016, compared to 1.6% in both 2014 and 2015.
In the next part of this series, we'll examine PSA's valuation in comparison to its peers'.