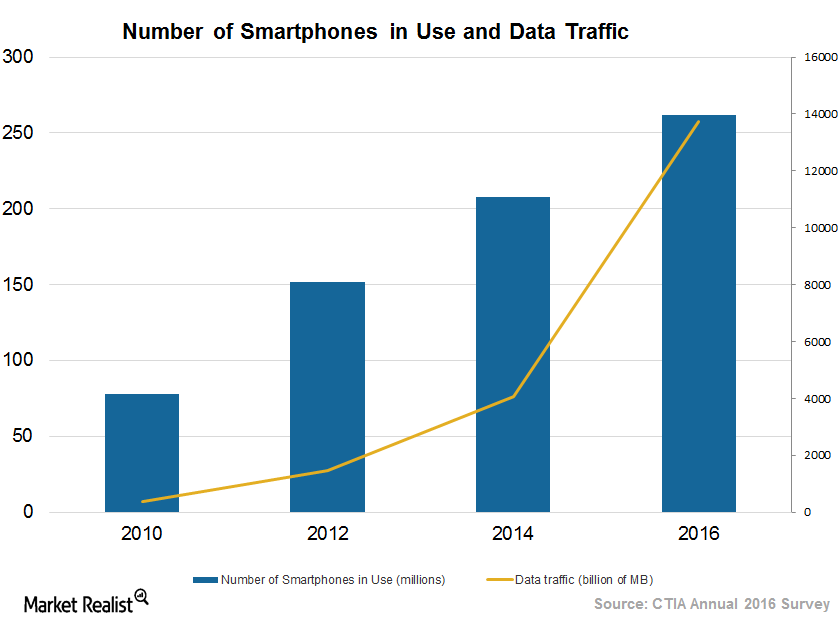 Behind Crown Castle's Investment in 5G
By Jennifer Mathews

Jun. 29 2017, Updated 7:41 a.m. ET
The ever-changing Internet
The Internet of Things is now constantly changing the Interet landscape. The active use of smartphones has meanwhile risen 15% over the past seven years.
Of course, speed is the name of the game. Although the majority of wireless carriers operate on 4G, even this is changing fast, with carriers of higher and larger bandwidths opting for 5G (fifth generation), which provides greater speed and reliable connectivity.
Meanwhile, small cell technology is used to augment the capacity of towers. (Small cells operate through fiber networks.)
Article continues below advertisement
Quick to respond
Crown Castle has been quick to respond to the needs of the day. The company is focused on new technology and is geared to transform itself from a tower company to a fiber provider for small cell networks.
With the takeover of NextG Networks in 2012, Sunesys in 2015, and recently, Fibernet in January 2017, CCI has already bolstered its presence in the 5G world.
The takeover of small cell operator Sunesys has added 16,000 miles of metro fiber and a DAS (distributed antenna system) and small cell portfolio of 15,000 nodes to the company's portfolio. The takeover of fiber services provider FiberNet, which operates mainly in Florida and Texas, has given access to nearly 12,000 route miles of fiber installed and under construction, including ~6,000 route miles situated in top metro markets.
On June 25, 2017, CCI took over the privately held Wilcon Holdings, which gave it ownership rights of over 1,900 route miles of fiber in Los Angeles and San Diego.
Ownership rights
Crown Castle now has ownership rights to nearly 27,000 route miles of fiber supporting small cell networks that are designed to facilitate wireless connectivity. Its small cell customers include large wireless carriers and businesses who have high-bandwidth demands such as government enterprises, educational organizations, and wholesale customers.
CenturyLink (CTL) has a significant tower cell business as well. But while towers made up 80% of its total revenues of in 2016, it gained only 2%. Small cells made up only 12%.
Notably, close competitors American Tower (AMT) and SBA Communication (SBAC) have still not started small cell businesses. American Tower and Crown Castle together make up 11.5% of the PowerShares Active US Real Estate ETF (PSR).