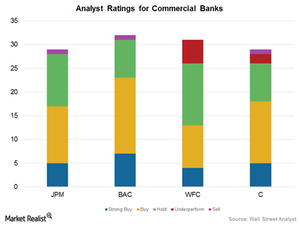 Analysts' Ratings Revisions for JPM and BAC in 2017
By Robert Karr

Updated
BAC's analyst ratings
As the Trump administration aims to roll out regulatory easing in the banking sector by tweaking the Dodd-Frank Act through the proposed Financial CHOICE Act, analysts are expected to revise their ratings for the commercial banking space (XLF). 
So far in June 2017, 23 of the 32 analysts (~71.8%) covering Bank of America (BAC) have given the stock "buy" or "strong buy" ratings, compared to 24 out of 31 analysts giving BAC "buy" or "strong buy" ratings in April 2017. 
Eight analysts have given the company "hold" ratings, and one has given it a "sell" rating. These ratings haven't changed since April 2017. BAC's mean price target is $26.03 per share, implying a 9.3% rise over its current price.
Article continues below advertisement
JPMorgan's expectations
So far in June 2017, 17 of the 29 analysts covering JPMorgan Chase (JPM) have rated the bank as a "buy" or a "strong buy," compared to 15 analysts in April 2017 and 16 analysts in May 2017. JPM's improved ratings reflect its potential for higher growth in the upcoming quarters on better margins, credit card services, and asset management.
Eleven analysts have rated JPM as a "hold," and one has rated it as a "sell." JPM's one-year mean price target is now $94.06 per share, implying an 8.2% rise from its current level, compared to the 31% rise in its price in 2016. Other commercial banks, including Wells Fargo (WFC) and Goldman Sachs (GS), have seen stable ratings over the past couple of months.