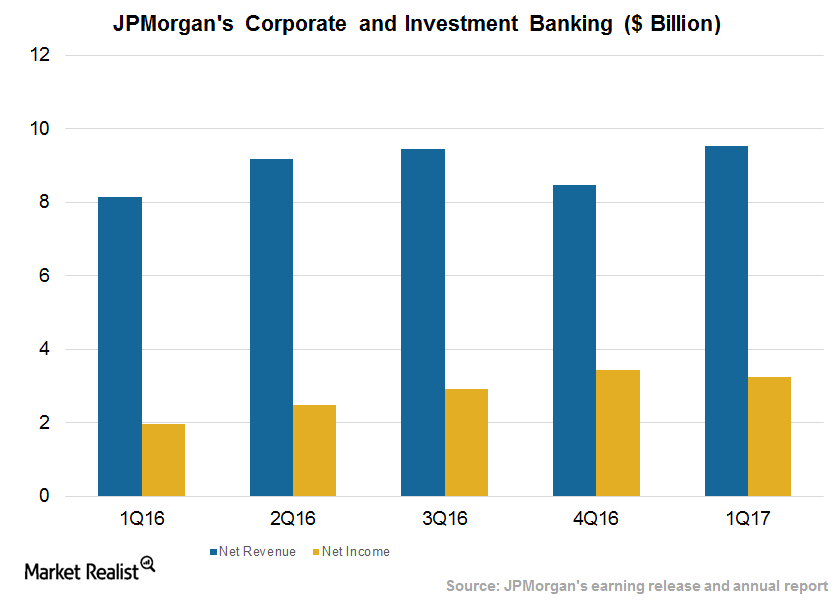 Will J.P. Morgan's Investment Banking Continue to Grow in 2017?
Corporate and investment banking
J.P. Morgan (JPM) advises corporates on fundraising, strategic transactions across countries, and trading activities under its corporate and investment banking division. The division's earnings are expected to be strong in the upcoming quarters mainly due to higher liquidity in markets, improved valuations creating strategic transaction opportunities, and higher trading across asset classes.
In 1Q17, the division saw higher revenues of $19.5 billion, helped by a 25% rise in banking and a 34% rise in investment banking revenues. The division posted a net income of ~$3.2 billion, a growth of 64% on a YoY basis, boosted by lower provisions, tax benefits, and a rise in revenues.
Article continues below advertisement
Investment banking
JPM continued to be first in the world in investment banking fees, reflecting its expertise in originations and execution of large-scale transactions. The banking giant has also managed to see higher trading activity on the back of the rising broader market (SPX-INDEX) (SPY). JPM faces competition in investment banking and trading activity from giants like Goldman Sachs (GS), Bank of America (BAC), and Morgan Stanley (MS). On the competition front, JPMorgan is expected to garner higher business as it focuses on building its intellectual capital. In 1Q17, the bank managed 8.5% wallet share, reflecting a strong presence in advisory and trading activity.