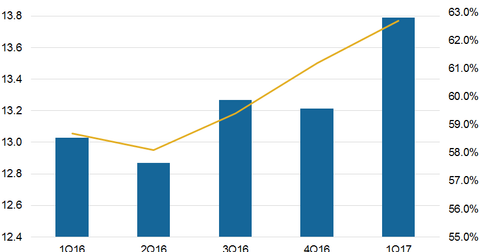 Wells Fargo's Spending, Margins, and Efficiency Ratio in 2017
By Robert Karr

Updated
Non-interest expenses
Commercial banks (XLF) have focused on strong expense management and spending cuts over the past few years amid the lower interest rate environment. Banks have seen higher employee compensation over the past few quarters due to higher trading activity and asset management revenues. However, there has been tapering towards other operating expenses. Deployment of technology helped improve margins. Wells Fargo (WFC) saw non-interest expense of $13.79 billion in 1Q17—a rise of 4% from 4Q16 and 6% from 1Q16—mainly due to higher employee benefits, commissions, and incentive compensation. The higher non-interest expense was offset by lower core deposit and other intangible expenses, outside professional services, the FDIC, and other expenses.
Article continues below advertisement
Rising efficiency ratio
Wells Fargo witnessed a higher efficiency ratio—non-interest expenses divided by total revenue—over the past few quarters, which reflected declining operating margins. The bank's efficiency ratio rose to 62.7% in 1Q17—compared to 58.7% in 1Q16. Wells Fargo expects the ratio to remain high considering regulatory charges, assessments, higher employee expenses, and subdued credit offtake. However, the bank's efficiency ratio on a standalone basis remains low compared to peers like JPMorgan Chase (JPM), Citigroup (C), and Bank of America (BAC).
Wells Fargo saw salaries, commissions, and employee benefits of $8.7 billion in 1Q17 helped by seasonally higher payroll taxes and deferred compensation expenses. The bank saw a rise in litigation expenses due to recent investigations and sanctions. It's imperative for Wells Fargo to garner a lower efficiency ratio in upcoming quarters for continued premium valuations.