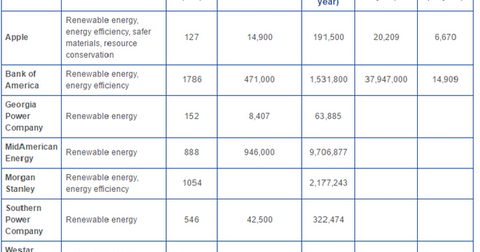 How US Corporate Green Bonds Are Faring
By VanEck

Updated
Article continues below advertisement
Case Studies: U.S. Corporate Green Bonds
Apple is not the only major U.S. corporation to issue a green bond. Below we list other U.S. corporate bond issues included in the S&P Green Bond Select Index ("SPGRNSLT" or the "Index") in which the issuer has made green bond project impact estimates publicly available on their respective websites. We have included descriptions of these companies' green bond issuances, and a table summarizing key information and data points:
Apple: Apple's green bond issued in 2016 was the largest to date by a U.S. corporation. The bond was issued following the Paris Climate Agreement to demonstrate how businesses can be leaders in reducing greenhouse gas emissions globally. Projects funded by the bond include green buildings, renewable energy sources to power data centers, and robotic technology to disassemble used iPhones and preserve high-quality components.
Bank of America: Bank of America's 2015 green bond was its second issuance, and the company issued a third bond in late 2016. Proceeds helped fund energy efficiency projects in several small towns, residential solar systems, and wind power facilities.
Georgia Power Company: Georgia Power was the first U.S. electric utility to issue a green bond. Proceeds were used to finance several solar projects in Georgia.
MidAmerican Energy: MidAmerican Energy owns more wind-powered electricity generating assets than any other U.S. utility, and upon completion of two projects in Iowa that its green bond issued in 2017 will help finance, annual renewable energy generation from wind and will satisfy 89% of Iowa customer's annual usage, moving the company towards its goal of 100%.
Morgan Stanley: Projects financed by Morgan Stanley's green bond issued in 2015 include several wind farms in Texas, as well LED lighting upgrades of a Morgan Stanley office building in New York City.
Southern Power Company: Southern Power was the first investment grade power producer in the U.S. to issue a green bond. Projects financed by its 2015 bond issues include solar facilities in California and Georgia, and a wind power facility in Oklahoma.
Westar Energy: Westar Energy's green bond issued in 2016 will fund a wind farm in Kansas, which will generate approximately 1/3 of the total energy used by the company's customers.
Market Realist
According to Apple's report, the 16 projects that Apple (AAPL) is undertaking will lead to 1.8 million square feet of green buildings, 20 million gallons of water savings per year, 6,670 metric tons of waste diverted from landfills, 127 megawatts of renewable energy capacity, a whopping 330 million kilowatt-hours of renewable energy production, and more.
Meanwhile, Bank of America  (BAC) announced the issuance of its third and largest green bond (GRNB) for $1 billion in November 2016, advancing the company's commitment to renewable energy generation. As the graph above shows, the bank already has a renewable energy capacity of 1,786 megawatts.
Morgan Stanley (MS) also plans to bring in more sustainable investing strategies in 2017. The asset management company already has a renewable energy capacity of 1,054 megawatts.