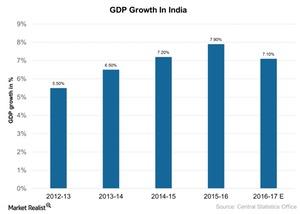 Will India's GDP Growth Support Market Performance in 2017?
By Mary Sadler

Updated
Economic growth
India shifted its method of assessing economic output from gross domestic product to gross value added. The government also revived the base year from 2004–2005 to 2011–2012. The fiscal year in India begins in April and ends in March of the following year. Let's look at GDP growth in the last five years in the below chart.
Article continues below advertisement
India's GDP growth
India's economy remains robust despite the removal of about 86% of its currency in circulation, according to national accounts. The GDP grew at 7.1% year-over-year as of 3Q16 as compared to 7.3% in the previous quarter. On an annual basis, the Central Statistics Office expects GDP to grow at 7.1% for 2016–17. The lower growth in 2016–17 was due to a number of factors including effects of demonetization and investment slumps.
The inflation and current account deficit are broadly within the forecast of 2016–17. The enactment of legislation to allow a national value-added tax is expected to create a more integrated and productive economy. The government is making efforts to restructure bank balance sheets to revive lending and reduce the excessive leverage of large corporations. The government's efforts to restore the banking system are expected to improve investment spending and result in higher growth expectations for 2017–18. Financial stocks like ICICI Bank (IBN) and HDFC Bank (HDB) are expected to benefit from the revival of the banking system.
India's growth expectation depends heavily on consumption growth in 2017–18. The increased consumption is expected to drive the stock market performance (INDA) (EPI) in 2017. The corporates are expected to see higher profitability with increased consumer spending and consumption.
The consumer discretionary companies are expected to benefit from the growing demand in 2017–18. The consumer discretionary stocks to benefit include ITC Holdings (ITC), Maruti, Bata, and United Spirits. Some of the heavily weighted consumer goods and related sector funds include the SBI FMCG Fund and the ICICI Pru FMCG Fund.
Let's look at sector-wise performance in India in 2016-17 in our next article.