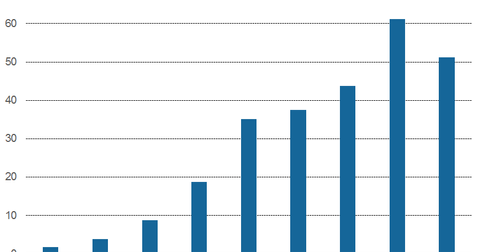 How Will Apple's iPhone Perform in the Long Run?
By Adam Rogers

Updated
Apple could sell 260 million iPhones in fiscal 2018
According to JPMorgan Chase (JPM) analyst Rod Hall, Apple (AAPL) will sell ~260 million iPhones in fiscal 2018. Hall expects the highly anticipated iPhone 8, which will be launched later this year, to drive sales. 
Hall had earlier estimated sales of 245 million units for the company in fiscal 2018. He'd also revised Apple's 12-month price target to $165 from $142.
Supply chain leaks have suggested that Apple is developing a significantly redesigned iPhone, likely to be named the iPhone 8. The device is rumored to come with an OLED (organic light-emitting diode) display, enabled wireless charging, and an all-glass surface.
JPMorgan expects the iPhone user base to rise to 1.1 billion handsets in September 2017, compared to 542 million handsets in December 2014. The company also stated that 57% of iPhone's user base would be first-time buyers.
Morgan Stanley (MS) analyst Katy Huberty expects iPhone shipments to rise 20% YoY in 2018.
Article continues below advertisement
Upgrades likely for iPhone 8
JPMorgan's replacement model states that the iPhone's average base age is 6.4 quarters, its highest in the last two years. This figure was six quarters in 2010 and 8.7 quarters in 2017. Apple benefits when the iPhone upgrade cycle is short, as a shorter cycle helps Apple sell iPhones in a shorter timeframe.
iPhone users are likely eagerly awaiting the launch of the iPhone 8, which will also mark the ten-year anniversary of the launch of the first iPhone.
Apple tops J.D. Power satisfaction survey
A J.D. Power report published last month stated that Apple led in customer satisfaction for smartphones with a score of 840 out of 1,000. Samsung (SSNLF) was in second place with a score of 839. 
The phones were rated on the basis of five parameters: performance, features, battery life, design, and ease of operation.