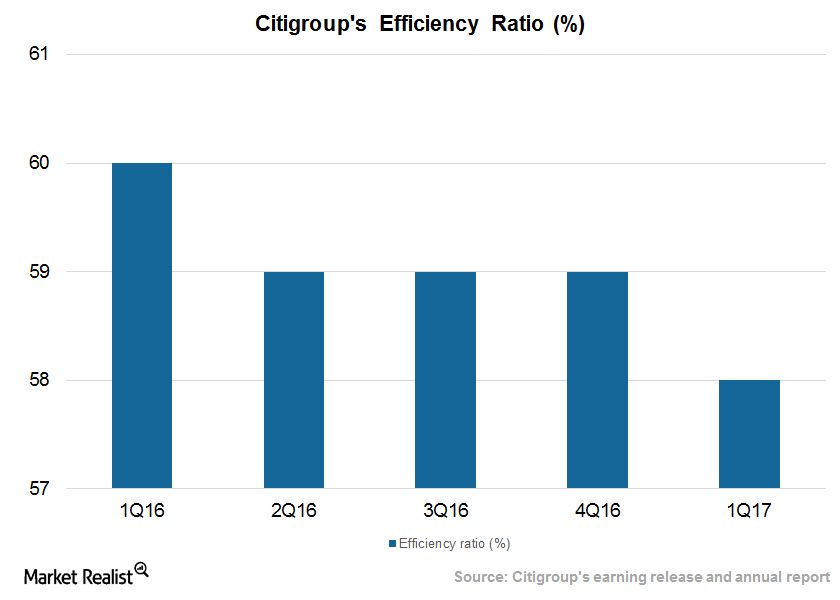 How Citigroup Is Targeting Improved Efficiency in 2017
Citigroup's expenses and margins
Controlling overhead expenses has been imperative for US commercial banks (XLF) like JPMorgan Chase (JPM), Bank of America (BAC), Wells Fargo (WFC), and Citigroup (C) in order to improve margins amid a volatile but positive macro environment. Wall Street (SPX-INDEX)(SPY) analysts keep a close eye on banks' efficiency ratios. The efficiency ratio measures non-interest expenses as a percentage of net revenue. The lower the ratio, the better from a profitability perspective.
Article continues below advertisement
For Citigroup, the efficiency ratio was flat at 58% in 1Q17 compared to 59% in the previous quarter and 60% in 1Q16, reflecting lower operating expenses. The company's operating expenses remained unchanged at $10.5 billion. On a constant-dollar basis, expenses rose 1%, mainly due to performance-related compensation and higher business volumes, partially offset by lower repositioning costs.
Targeting efficiency
Citigroup is focusing on its core commercial and investment banking business in a bid to improve efficiency. The bank recently exited its Citi Holdings business and offloaded its legacy assets to improve adequacy and efficiency. The bank is also considering the closure of less profitable branches and reducing employee expenses. However, it has seen rising credit costs to $2.0 billion in 1Q17, growth of 19% on a year-over-year basis, mainly due to higher reserves and higher net credit losses.