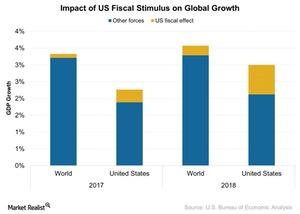 Can Trump's Fiscal Stimulus Boost Global Economic Growth in 2017?
By Mary Sadler

Feb. 9 2017, Updated 9:07 a.m. ET
Fiscal stimulus to support the economic growth globally
US President Donald Trump is expected to bring significant change to the country's macroeconomic policy. In an effort to boost the economy (IGF) (ITA), the new administration plans to increase infrastructure spending, reduce tax rates, and cut excessive regulations that are hampering business activity.
Implementation of these policies could require the introduction of new legislation, as well as potential amendments of current legislation and tax reforms. The overall expectation seems to be that easing fiscal policy over the next two years could imply expected growth and inflation in the US and other economies.
Article continues below advertisement
The OECD's[1. Organisation for Economic Co-operation and Development] calculations in its Economic Outlook report in November 2016 gave some estimates of the possible impact of fiscal measures on economic growth. The fiscal effect would result from measures adopted by the government, including significant expenditures and tax cuts.
Other forces could include monetary, structural, and macroeconomic policies adopted by the US government. According to the November 2016 OECD report, the fiscal initiative could increase global growth 0.1% in 2017 and 0.3% in 2018. Global growth is expected to be 3.3% and 3.6% in 1Q17 and 1Q18, respectively.
The fiscal measures of tax cuts and government spending incorporated into US growth include:
The increase in government consumption and investment each contribute ~0.25% to the GDP in 2017 and 2018.
The decrease in tax revenues due to a reduction in personal income tax rates would account for 0.5% of GDP in 2017 and 2018 in the US.
The combined fiscal measures are expected to support economic growth in the US by 0.4% in 2017 and slightly over 0.8% in 2018.
The sectors to benefit most from a fiscal stimulus include financial, infrastructure, aerospace, and defense. Some of the companies in these sectors include Wells Fargo (WFC), Bank of America (BAC), JPMorgan Chase (JPM), and Vulcan Materials (VMC), which are expected to have a strong 2017.
According to Goldman Sachs's Jan Hatzius, the momentum in economic activity gained in 3Q16, and the Trump administration's fiscal measures could help the economy to grow in 2017.
Let's look at the impact of the fiscal stimulus in the final article of this series.